Sign In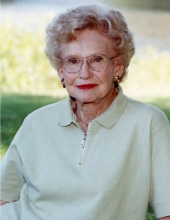 Myrna Hope Greene
Myrna Hope LaTourette Greene was born July 23, 1918 on her family's farm near Perrysville, Indiana to Fred and Mabel LaTourette. She died November 14, 2015 in Tulsa, OK. She was preceded in death by her parents, her husband of 53 years, three brothers and granddaughter Melissa Winburn. Myrna attended Indiana University where she was a member of Pi Beta Phi. She married Henry C. Greene in 1944, and they raised six children while living in Pittsburgh, PA; Springfield and Urbana, OH; Oklahoma City; and Phoenix, AZ. Myrna and Henry enjoyed traveling and playing golf. They retired to Tulsa in 1993. She was a member of Tulsa Bible Church, DAR, and the Mayflower Society. Her pursuits included reading, gardening, and her prayer group. Myrna loved God's word and devoted herself to the study of Scripture. She joined Bible Study Fellowship in Phoenix in 1970 and attended the classes for many years. She created a legacy for her family who followed her encouragement to become involved in BSF, including her children, grandchildren and great grandchildren. She was a long-time Republican with an active interest in politics and current events. She had a great interest in her heritage and studied the history of the United States as well as her family genealogy. Myrna, aka Grammie, loved spending time with her family. She is survived by her children Diana Winburn and husband Cliff of Tulsa; Barbara Hollingsworth and husband Alan of Oklahoma City; Jeffrey Greene and wife Debby of Norman, OK; Caroline Hyde and husband Jim of Arlington, TX; Fred Greene of Norman; and Penelope Chick and husband Jim of Lake Elsinore, CA, as well as grandchildren Megan Winburn, Abigail Winburn, Susannah Wells Bebee, Emily Wells Belisle, Jess Greene, Sarah Beth Greene, Thomas Hyde, Catherine Hyde Hines, Genevieve Chick Stapleton, David Chick and Caroline Chick, plus 9 great grandchildren. A memorial service will be held Thursday, November 19 at 10:00 a.m. at the Chapel at Memorial Park Cemetery, 5111 S. Memorial, Tulsa, OK. Donations in memory of Myrna may be sent to Bible Study Fellowship, 19001 Huebner Rd, San Antonio, TX 78258 or The Mayflower Society, PO Box 3297, Plymouth, MA 02361.
July 23, 1918
-
November 14, 2015
07/23/1918
11/14/2015
Recommend Myrna's obituary to your friends.
Plant a tree in memory of Myrna
An environmentally friendly option
P
Phil Martin
November 23, 2015
I remember many sweet Tuesday afternoons with Myrna and the TBC praying grandma's at Pat Bartlett's home. She usually sat in the chair by the patio doors, and it was a blessing to spend hours and hours with her in prayer. She is missed.

Phil Martin
Pastor of Shephe...
Continue Reading