Sign In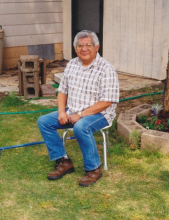 Myron Louis Bayhylle
Myron Louis Bayhylle, 74 of Perkins passed from this life on Saturday, October 20, 2018. Myron was born April 20, 1944 in Pawnee, Oklahoma to Edwin V. and Elsie (Sam) Bayhylle. He spent his early life in Pawnee, Tulsa and Enid, Oklahoma. In 1958 as a middle school student Myron met Joyce Erlene Turner at teen town in Enid and 4 years later on February 12, 1962 they were married. Myron worked as a Civil Service aircraft mechanic at Vance Air Force Base in Enid until 1976 when he and Joyce and their 5 children moved to Perkins, Ok. Myron went to work for Tinker Air Force Base in Midwest City where he retired in 2007. Myron's hobbies included working on cars, drag racing, attending airshows, collecting vinyl records, requesting family cookouts for any and all occasions. Myron was a family man through and through. He was the happiest when he was surround by his children, grandchildren and great grandchildren where he usually set quietly with a grin on his face just watching the chaos and cracking his occasional joke. He is preceded in death by his parents, sisters, Juanita Cuppawhe, Joyce M.Bayhylle-Rice, Julia Bayhylle; brothers, Edwin Bayhylle Jr. Charles Bayhylle and twin brother Byron Bayhylle, two infant siblings, and Great-grandson Jayden Hatter. As well as his three furry companions Rambo, Millie and Buffy. He is survived by his wife of 56 years Joyce Bayhylle, sons Geoffrey Bayhylle and wife Krista, Tim Bayhylle, daughters, Resa Bayhylle, Andrea Bayhylle and Margarita Bayhylle, grandchildren Kinzie Moore and husband Josh, Courtney Harp and husband Josh, Katelynn Wells and husband Kyle, Chealsea Zindell, Derric Richards and girlfriend Ashley and Colt Barnett. 12 Great grandchildren, Kylee, Sophia, Chris, Aidyn, Ross, Gabriella, Elysabeth, Daxxon, Keaghan, Madison, Emilynn, Declan and Tayvion,as well as numerous nieces and nephews. A graveside service will be held Saturday, October 27 at 11am at the North Indian Cemetery in Pawnee, OK. The family invites friends and family to attend a lunch following the service at the Roam Chief Building in Pawnee
April 20, 1944
-
October 20, 2018
04/20/1944
10/20/2018
Recommend Myron's obituary to your friends.
Plant a tree in memory of Myron
An environmentally friendly option
T
Tribute Store
October 25, 2018
B
Buster Holzer
October 24, 2018
Ms. Bahylle and family, I was honored to be your neighbor for just a few short years, I'm thankful for how you continued to be good neighbors to my daughter and son in law! I do remember coming to your rescue one night as that evil intruder tried gaining access into you...
Continue Reading
A candle was posted for Myron Louis Bayhylle.
R
Roby DeHaas
October 23, 2018
Joyce and family. So sorry for your loss. Myron had such a sweet kind spirit--never saw him without a smile Know he will be missed greatly. May God be w u all providing peace and comfort as u all go thru this time of mourning. Much love to u all. Daryl and Roby
T
Tribute Store
October 23, 2018