Sign In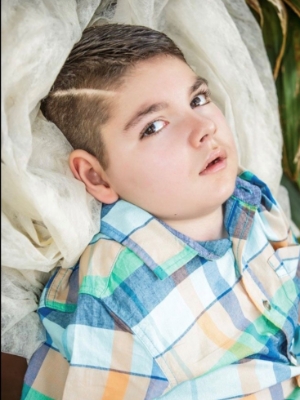 Cooper Paul Duet
<p>Cooper Paul Duet, 12, a native and resident of Bayou Blue, Louisiana passed away on Tuesday, March 14, 2023.</p><p><br></p><p>He is survived by his parents, Brady and Erica Duet; grandparents, Tammy Adams, Tommy Dupre, and Marilyn Duet; and numerous aunts, uncles, and cousins.</p><p><br></p><p>He was preceded in death by his grandfathers, Leonard Duet and John Adams.</p><p><br></p><p>A celebration of life will be held at a later date.</p><p><br></p><p>The family would like to extend their deepest gratitude to Dr. Shannon McGuire, Dr. Nicholas Rau, Dr. John L. Guarisco, and countless nurses and staff at Children's Hospital and Ochsners in New Orleans.</p><p><br></p><p>Online condolences can be given at www.samartfuneralhome.com</p><p>Samart Funeral Home of Houma, LLC is in charge of arrangements.</p><p><br></p><p><br> </p>
March 30, 2010
-
March 14, 2023
03/30/2010
03/14/2023
Recommend Cooper's obituary to your friends.
A
Alexis, Donny, Bree, Bella, Sophie Daigle
March 16
We are thinking of you during this difficult time. You need anything dont hesitate to reach out my love.
3 trees were planted in memory of
Cooper Paul Duet
Sorry for yall loss. HEAVENs Gain!
Brittany Melancon
March 21
Rest in heaven sweet baby boy.
So sorry for y'all loss. Sending hugs and my love to all of y'all.
Erica & Brady, you are the Heroes of Coops life. He will always be our Super Coop. God Blessed You Both with one of the most beautiful Angels on Earth. My deepest Heartfelt Sympathy and Condolences for Your Loss. Coop will always live on in our memories. I love you Both....
Continue Reading
Cynthia Fatchett Daigle
March 17
He touched the lives of so many people. May he stroll heavens gardens with angels and rest in eternal peace. Prayers for the family.
Tammy Foret Savoie
March 17
Sending prayers. For the family. 🙏
C
Cynthia Pellegrin
March 16
None of our lives will ever be the same. You taught all us so much. You were loved dearly and deeply. Fly high Coop! Watch over your family.
He was given to you'll for these 13 years. Now this angel is with our Savior. Rest in peace with Our Father at your side! 🙏🏼🙏🏼
Condolences and prayers for the entire family. Cooper was such a beautiful child. I will always remember those beautiful eyes .