Sign In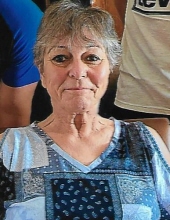 Rebecca "Becky" Sue Tuley
Rebecca "Becky" Sue Tuley, 73,of Palmyra, passed peacefully into the arms of Jesus Saturday, August 6, 2022, at her home in Palmyra, MO. Friends and family are invited to a Visitation to be held from 5:00pm to 7:00pm Monday August 8, 2022, at Lewis Brothers Funeral Chapel in Palmyra, MO. Funeral Services will be held at 10:00 am Tuesday August 9, 2022, at Philadelphia Baptist Church. Pastor Roger Stevens will officiate. Burial will follow at Greenwood Cemetery in Palmyra, MO. Becky was born July 7, 1949, in Hannibal, MO to William Amos and Helen Louise Schaeffer Norfolk. She was married to Marvin Tuley on October 1, 1971 at Philadelphia Baptist Church in Philadelphia, MO. Survivors include her Husband of fifty years, Marvin Tuley; daughter Maranda Anderson (Todd), son Josh Tuley (Christy), and son Wes Tuley (Chelsey); grandchildren Trent & Parker Anderson, Miles Locke, Haley & Paige Tuley, Jesse, Carter, & Cassie Smith, Wyatt, Weston, and Waylon Tuley; brother Roger Norfolk (Sandy) and nieces, nephews, and extended family. Becky was preceded in death by her Parents and in-laws Edgar and Nadine Tuley. After high school Becky earned her Associates degree in Accounting from Truman State University in Kirksville, MO which she would put to good use during her several years at Marion County Water Supply and 20 plus years, as a Marion County Circuit Court Clerk. During her school years Becky was a drum major, on the Pom squad, and a dance instructor. As the famous poem, "God made a farmer's wife" says, "I need somebody with arms strong enough to keep up with the farmer yet gentle enough to cuddle a newborn baby. Somebody to run for parts, help in the fields, move trucks, deliver meals, look the farmer in the eyes and tell him 'I love you and the life we've built' – and mean it". So God made a Farmer's wife. Becky was this wife, mother, grandmother and more. Her family meant the world to her and she made them a priority in her life. She tried to attend each and every event her children and grandchildren entered. Becky had a servant's heart and loved to volunteer her time at the Palmyra Food Bank and Philadelphia Baptist Church where she played the piano and organ for over 50 years. She enjoyed a good book and game shows when she had the time. Pallbearers will be Tri Tuley, Michael Powell, Darin Redd, Trent Anderson, Parker Anderson, and Wyatt Tuley. Memorial contributions may be made to the Palmyra Food Pantry or Philadelphia Baptist Church. Honorary pallbearers will be Weston Tuley, Waylon Tuley, Miles Locke, Sean Norfolk, Chris Norfolk, Haley Tuley, Paige Tuley, and Jesse Smith.
July 7, 1949
-
August 6, 2022
07/07/1949
08/06/2022
Recommend Rebecca "Becky"'s obituary to your friends.
o
obits@lewisbrothersfuneralchapel.com
August 8
So very sorry for your loss. Prayers sent.
Kim Stayton Voepel
August 8
Prayer's for her family 🙏
Many wonderful memories of Becky. We will miss Becky and just pray Marvin, Miranda, Joshua, and Wesley, that God will wrap his loving arms around you and comfort you during this difficult time.
o
obits@lewisbrothersfuneralchapel.com
August 8
Becky was one of the bravest most positive people I have met. She fought the hard fight and never faltered in her faith. I only wish I could pattern the rest of my life like her! So happy, so loving and caring. Getting to know her better was a joy. I'm so sorry for you M...
Continue Reading
Glenna Brandstatt
August 7
Wes: Mike and I send our thoughts and prayers to you and Wyatt.
Sorry for your loss. Prayers for the family.
Words can not express my saddens at hearing that my friends has been called home. We have been friends since 3rd grade. Since those days we found time to see each other. She was so kind in her words of encouragement to me and my family. My thoughts and prayers go out to ...
Continue Reading