Sign In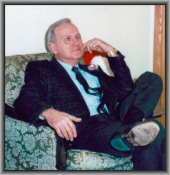 Acle Clarence Norvell, Jr.
Acle (Skip) Clarence Norvell, Jr., 74, of Millwood, WV, went home to be with the Lord on Sunday, July 10, 2022, following a brief illness. He was preceded in death by his father, Acle Clarence Norvell, Sr.; his mother, Gladys Marie Norvell; and his nephew, Jerry Allen Carpenter. Acle born and raised in Nitro, WV, and then managed IGA Foodland in Ravenswood for many years. Acle was known by his friends and family as "Skip" and as "Pappy" to his many children, grandchildren, and great grandchildren. Skip was a wonderful husband, father, son, brother, uncle and friend. Skip enjoyed going to the beach with his family. He was an avid collector of rare specialty coins and knives. He was a member of the Ripley Tabernacle Baptist Church. Along with his wife, Helen Norvell, he is survived by his sisters, Sue (James) King and Carol (Jerry) Carpenter; he is also survived by his children, Stacy (Ryan) Eaton and Brent Norvell; niece and nephew, Kristin (Doug) Smith and Arden (Emily) King; and great nephew, Austin King; his stepchildren, Julye (Bobby) Knox, Toni (Rick) Davisson, Brian (Kerry) Withrow, and Bruce (Shelly) Withrow. He was blessed with many grandchildren, Tyler, Griffin, Evan, Julianna, Piper, Marlo, Kamille, Halie, Kaitlyn, Nicholas, Kirsten, Victoria, Jade, Zena, Kaylee, Alexa, Ronan, Brooke, Jordan, Michael, Shelby, McKailey, Blake, Olivia, Emma, Maggie and Sophie; great grandchildren, Izabella, Blake, Exodus, Brynlee, Aislee, Rin and Jaxson. The family would like to thank WVU Medicine/Jackson General Hospital and the Ravenswood Care Center for their excellent care given to Skip. The viewing will be held at Roush Funeral Home on Monday, July 18, 2022 beginning at 1:00 pm followed by the funeral service at 2:00 pm. Pastors Jeff Keffer and Ryan Eaton will officiate. Burial will follow at the Ravenswood Cemetery. Condolences may be expressed to the family at roush94@yahoo.com or on our Facebook page.
Recommend Acle's obituary to your friends.
Plant a tree in memory of Acle
An environmentally friendly option
R
Rousch Funeral Home
August 2