Sign In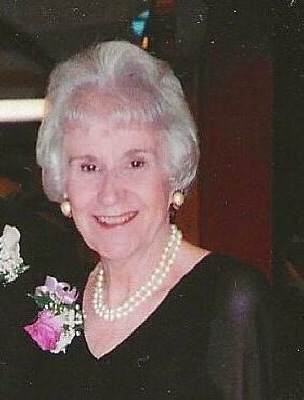 Marlene Rosalee Smith
Marlene Smith passed away peacefully of natural causes on November 22, 2021, with her loving family at her side. She was 90 years old. Marlene was born on June 7, 1931, in Boise, Idaho, the daughter of Wilma and George Steneck. She loved her childhood on the farm and shared many stories of her escapades with her beloved sisters Betty and Marguerite. During high school, Marlene worked at the local movie theater. After graduating, she took a job in Boise with AT&T. She rose through the ranks quickly and moved to Denver, Colorado, where she became a supervisor in 1957. Marlene took pride in her rapid advancement to a management position, which was an impressive achievement for a young woman at that time. She married Herschell Smith on New Year's Eve, 1960. They were wed for 61 years until her passing and had a wonderful life together, traveling the world extensively. Marlene's love of travel began in 1955 when she flew from Boise to Hawaii to visit her sister Betty, whose husband Sam was stationed at Pearl Harbor. It was a newsworthy event at the time, and an article chronicling her adventure appeared in the Idaho Statesman. She often spoke fondly of her fun in the sun with Betty--a few Mai Thaïs were said to have been enjoyed! Marlene was a devoted mother to her three children, Rochelle, Stuart, and Meredith. She enjoyed being active in their lives and always gave freely of her time, serving as Room Mother and Girl Scout leader, as well as volunteering with the Track Club and PTA. No matter what Marlene's children needed, she was there for them. In addition, Marlene was enormously talented and excelled at everything she put her hand to. Some of her hobbies included restoring antique furniture and painting ceramic pieces. She had a special passion for genealogy and traveled the country researching her family history. Marlene loved baseball and rarely missed a Giants game. She adored her many family pets, and they brought her great joy. Marlene had a second fulfilling career as Co-Owner and Operator of Royal Globe Travel in Salinas with Herschell. She ran the day-to-day operations and customer relations side of the business. The company's success allowed Herschell and Marlene the opportunity to travel the globe and enjoy countless amazing adventures. They were truly blessed and had a wonderful life together. We will forever love you, Mom. You will be missed beyond measure and will always fill our hearts with the love you gave us. Marlene is preceded in death by her parents George and Wilma Steneck, and her sisters Betty Dyke and Marquerite Jacobson. She is survived by her husband, Herschell, her three children, Rochelle, Stuart, and Meredith, and her five grandchildren, Justin, Aidan, Brynn, Francesca (Dolly), and Greyson. Mom's wishes were to have a private family ceremony upon her passing. In lieu of flowers, please consider a donation to the National Multiple Sclerosis Society on her behalf. Marlene's mother, Wilma, suffered from this tragic disease, and any contribution would be welcomed. https://www.nationalmssociety.org/Donate
June 7, 1931
-
November 22, 2021
06/07/1931
11/22/2021
Recommend Marlene's obituary to your friends.
Plant a tree in memory of Marlene
An environmentally friendly option
C
Cindy Tollman
December 2, 2021
I met Marlene on line at Ancestry, we were cousins several generations removed. She added so much to my tree. I will forever be great full. She then invited my husband and I into their home. It was fun to meet both Marlene and Herschell. It's been years but we still ...
Continue Reading
A candle was posted for Marlene Rosalee Smith.
M
Meredith
November 29, 2021
To the best mom a daughter could ask for!
I LOVE YOU MA❤️