Sign In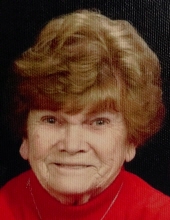 Ruth Jestine Ellis
GRAND TOWER – Ruth Jestine Ellis, of Grand Tower, passed away on Monday, September 13, 2021 at her home surrounded by her loving family. Jestine was born February 2, 1927 in Granite City, Illinois to Doris and Ava (Woods) Cripps. She married General "Gen" Ellis on May 24, 1942 at Cape Girardeau, Missouri. He preceded her in death on January 14, 2004. Jestine was of the Baptist faith. She loved spending time with her big family, talking to Riley and doing word search puzzles. Jestine is survived by her children, Bill Ellis of Evansville, IN, Lorine Ellis of Grand Tower, Jerry Ellis and wife Beverly of Grand Tower, Steve Ellis and wife Trish of Mulkeytown, Roger Ellis of Grand Tower, and Von Robertson and husband Larry of Wolf Lake; twelve grandchildren; twenty-two great- grandchildren; nine great-great grandchildren; and nephew, Donnie L. Cripps of Cape Girardeau; and very close friend Jonathan Ferrell who helped take care of Jestine for many years. She was preceded in death by her parents; husband; one son, Frances "Funny" Ellis; sisters, Beulah Cripps Gannon and Lorrine Cripps; and brother, Donald Eugene Cripps and niece, Rita Myers. Funeral services for Jestine will be held at 1:00 p.m., Friday, September 17, 2021 at the Meredith Funeral Chapel, Grand Tower with Jerry Ellis officiating. Burial will follow at Jerusalem Cemetery, Pomona. Visitation will be from 11:00 a.m. until the time of service at the funeral chapel on Friday. Memorials may be made to the family help with expenses.
February 2, 1927
-
September 13, 2021
02/02/1927
09/13/2021
Recommend Ruth's obituary to your friends.
Plant a tree in memory of Ruth
An environmentally friendly option
4 trees planted in memory of Ruth Jestine Ellis.
Gen and Justine were only cousins to my father and mother, but they were closer than most brothers and sisters. I have only fond memories of picnics at Hudson Creek and the great cooking of Justine. I'm sure they will greet her with a gentle reprimand for being late. M...
Continue Reading
My Roger and my Von, I enjoyed meeting your mom, she was an exceptional lady. My love and sympathy to you and yours. Peace be with you. Leah
T
Theresa Pinnon and family
September 16
My deepest sympathy. May God Bless. I will always remember Jestine with a big smile every time I saw her or she saw me..
T
Tribute Store
September 16
W
With love, Kevin and Claudia McCarthy
September 16
Justine was a wonderful, caring woman. We are so sorry for your loss. You are all in our prayers.
K
Kevin and Pam
September 15
We are thinking of you during this difficult time. May the lord look over your family Jestine as the Lord reunites you with General at the pearly gate
T
Tribute Store
September 14
With love from the Wagnitz family
T
Tribute Store
September 14
We loved mom so much she will be deeply missed. Margaret & Skip Brady, Betty Edwards & Jonathan Ferrell
T
Tess, Kim, Cory, Allie & Harrison Ford
September 14
Love & Prayers. Tess,Kim, Cory, Allie & Harrison Ford.
Blooming Garden Basket was purchased for the family of Ruth Jestine Ellis. Send flowers
A tree was also planted in memory of Ruth Jestine Ellis.
Sympathy and prayers for all the family, especially Jerry and Beverly and Steve and Trisha. Prayers for all God bless. I'll always remember her as one of the sweetest ladies. Clyde and Patty Pinnon Wolf Lake, Illinois.