Sign In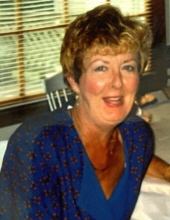 Patricia "Patsy" Ann Holt
Patricia "Patsy" Ann Burdett Holt, 79, of Fayetteville, Georgia, passed away on July 19, 2021. She was born in Kapuskasing, Ontario, Canada, on May 26, 1942. In 1960, she graduated from Kapuskasing District High School. On February 23, 1963, she married the love of her life, Alvin, at Saint Marks Anglican Church. The two would relocate to Tyndall Air Force Base in Panama City, Florida. In 1966, they gave life to their only daughter, Karen. While also being the co-owner of Alvin's Salvage, Patsy was a bookkeeper, secretary, and stenographer. She looked forward to working in her garden and playing piano, and she especially loved hummingbirds and pandas. Patricia became the caregiver for her father, James Burdett, who suffered with Alzheimer's for eight years. Patsy was preceded in death by her parents, James and Dorothy Burdett, also of Kapuskasing, Ontario. Patsy is survived by her husband of 58 years, Alvin Holt, daughter, Karen (Greg) Adams, and grandson, Landon Adams. She is also survived by sister-in-law, Joyce Cleveland, and brother-in-law, Donald (Julie) Holt of Australia, numerous nieces, nephews, as well as great nieces and great nephews. Funeral services will be held at 2:30 PM on Wednesday, July 21, 2021, at the Chapel of Mowell Funeral Home in Fayetteville, Georgia. Mrs. Patsy will be laid to rest at Camp Memorial Park, Fayetteville. The family will receive friends from 12:30 PM to 2:30 PM prior to the services at the funeral home.
May 26, 1942
-
July 19, 2021
05/26/1942
07/19/2021
Recommend Patricia "Patsy"'s obituary to your friends.
Plant a tree in memory of Patricia "Patsy"
An environmentally friendly option
2 trees planted in memory of Patricia "Patsy" Ann Holt.
S
Staff of Mowell Funeral Home & Cremation Service
July 21
S
Staff of Mowell Funeral Home & Cremation Service
July 20
Please accept my condolences and prayers on the Patsy's recent passing. As my brother Ross has mentioned, Patsy used to babysit us in Kap , before she ran away with that guy Alvin ( at least that is what I remember as a little kid when she left Kap in 1963 ...( I was 10 ...
Continue Reading
We will certainly miss the bright light of Patsy's smile each Sunday morning at church. Alvin and family, please know that you are in our prayers and in our thoughts. With sincere sympathy, Mike and Donna
Alvin, so sorry to hear of Patsy's passing. She was such a beautiful spirit and her love just shined in her face. I will truly miss seeing her. You and your family is certainly in my thoughts and prayers. My love, Betty Jo Simpson
J
JACK AND JUNE HOLT
July 21
Our Love and Sincere Condolence to Alvin. Karen, Greg, Landon and all the rest the Family and Friends. Our Hearts, Thoughts, Love, Prayers are with you today. REST IN PEACE PATSY. LOVE JACK AND JUNE
Condolences to Al and family Patsy used to babysit me and my brother Lloyd. We lived next door to her cousin Gwen Haack in Kapuskasing Ross and Lloyd Leonard
Canadian Flag was posted for Patricia "Patsy" Ann Holt.
J
JACK AND JUNE HOLT
July 21
B
Bob and Jean Brothers
July 20
Patsy was our friend for 44 years. She was there for me anytime . I will miss Alvan helping her call me to say Marry Christmas every year. I allways look forward to hearing her voice. Patsy you will be truley Miseed by Bob and I.
How can we forget our dear friend, "Miss" Patsy? She was a sweet, loving woman. She and her family were three of the first people we met when moving to Fayetteville in 1969. There are so many memories, but the one that stands out the most was her little short self trying...
Continue Reading
Butterfly was posted for Patricia "Patsy" Ann Holt.
With heartfelt condolences,