Sign In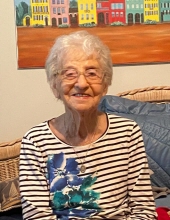 Marie Anderson Timmerman
Marie Anderson Timmerman, 88, resident of Woodhaven Court, widow of Richard Hodges Timmerman, Sr., passed away Monday, February 22, 2021, at her home. Born September 7, 1932, in Greenwood County, she was a daughter of the late Wells Chesterfield Anderson and Ruby Denard Anderson Burnett. She was a graduate of Greenwood High School and was retired from Greenwood School District 50, after having served as school secretary for many years at Emerald Jr. High School. A member of South Main Baptist Church, she was also a member of the Couples II Sunday School Class of the church. Surviving are a daughter, Nancy T. (Bobby) Stone of Greenwood; two sons, Richard Hodges "Dickie" Timmerman, Jr. of Edgefield and John Wells (Michele) Timmerman of Greenwood; five grandchildren, Eden (Peter) Velazquez, Kline Timmerman, Candace Timmerman, Kelly (Will) Schexnayder and Haven Brinker; three great-grandchildren, Max Speedy, Isabella Speedy and Xarion Velazquez. She was predeceased by a great-grandchild, Reagan Biggert. Graveside services will be conducted at Greenwood Memorial Gardens using current CDC Guidelines regarding social distancing including the wearing of face masks, at 1:00 pm Thursday with Dr. Toby Frost officiating. The family will be at their respective homes and will receive friends at the cemetery immediately following the service. Those wishing to make memorials in memory of Mrs. Timmerman are requested to please consider making donations to South Main Baptist Church, P.O. Box 1093, Greenwood, SC 29648, or to The Burton Center, 2605 Highway 72/221 East, Greenwood, SC 29649.
September 7, 1932
-
February 22, 2021
09/07/1932
02/22/2021
Recommend Marie's obituary to your friends.
So very sorry for your loss. I never met your Mom, but I saw her love of life through you and her paintings. May your memories be a blessing. Love and prayers, Ethel Waldron
With heartfelt condolences. Such a kind, sweet Lady! Marie always had a warm smile to share with others.
G
George and Bessie Whittle
5 days ago
Marie was such a Loving person ,we have been Friends for many years ,we so sorry for all our loss ,God Bless all of her Family,George and Bessie Whittle, Trenton SC
M
Martin Leslie Leary
5 days ago
A candle was posted for Marie Anderson Timmerman.
Sandra L. Moore
5 days ago
Have had so many great times with Marie. She was the definition of the word "friend". Such a sweet sweet lady....now she is with Doodle and they are together again.....RIP Marie....til we see each other again..
Nancy, Dickie & John. I was thinking back, to the years on Chesterfield Ct., good memories. Memories of your Mom. She was always cheerful and friendly. Our prayers are with you all. Tim & Anne Watkins
I am so very sorry for your loss. Thinking of you during this difficult time.
A candle was posted for Marie Anderson Timmerman.
Marie was a most talented lady and friend. She created lovely flower arrangements, decorative embellishments, garden design and paintings. Her sweet and caring life will always be remembered!!Judy Davies
What a lady she was. My prayers go to Nancy, Dickie and John who have been with her entirely as her illness progressed. To Kelli and Candy, you were always there tirelessly also. Love to all of you. Bill and Donna Bell