Sign In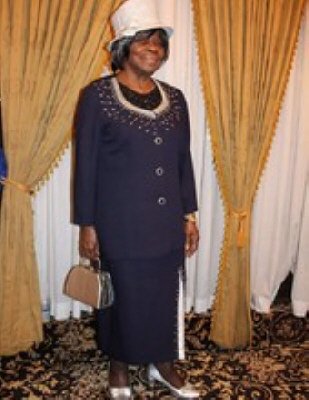 Doris Agatha Downer
DOWNER, Doris Agatha - On December 28, 1925, a beautiful girl with long curly hair named Doris Agatha Downer, was born to Mary and Benjamin Grant in Ulser Spring, Trelawny, Jamaica, West Indies. Doris is the eldest of nine siblings — five sisters and four brothers. Her sisters' names are/were Joyce, Monica, and Leithey (all deceased), and Pauline, and Millicent. The names of her brothers are/were Johnny, Rupert, and Daniel (all deceased) and Lester. Doris lost her mother at the tender age of 15. This inherently made her the surrogate mother for her younger siblings, a role she held well into adulthood. Doris became the go to person in her birth family and she maintained that role in the family she built with her husband the late Hubert Downer until she became ill on December 26, 2018. In her pursuit for a better life, Doris relocated from Ulser Spring in her early adulthood to Kingston, Jamaica. There she met Hubert. The two got married and together gave life to six beautiful children. Doris' life is marked by her love for the Lord. She was a living sermon to her children, grandchildren, and great grandchildren. Her service to the Lord was steadfast. Her loyalty to and love for Christ, His word, and His people were well-pronounced. She was a 21st century virtuous woman, a woman of nobility and character. Doris was not a certified college-educated counselor or psychologist, but she was a very wise counselor. It was her natural response to counsel anyone that crossed her path, especially young people. As a result, as aged as she was, Doris had many admirers, confidants, and friends who are decades younger than her. As described by Proverbs 31, Doris worked eagerly with her hands, wisely invested her money, and provided well for her family. In her early years, Doris was a seamstress. She could make the most beautiful and any piece of garment without pattern. Her love for clothing also showed in the way she dressed. When dressed for church or any occasion, Doris could out-dress anyone her age and even younger. Doris worked in the health industry as a Personal Support Worker for over 20 years. She served at Queen Elizabeth Hospital until she retired at age 65. After retiring, Doris invested her time in visiting the sick, caring for sick members of the body of Christ, and in prison ministry, serving women. It was customary for Doris to take several buses to go across town with packages of food to visit and care for the sick. Her prison ministry entailed weekly visits to the Kingston Penitentiary in Ontario, Canada where she counseled and ministered to incarcerated women. This ministry yielded several adopted daughters who remained in touch with her well after she stopped the prison ministry. Doris was an active member of Shiloh Church of God, Seventh Day until she returned to Jamaica where she resided for nine years. Upon returning from Jamaica, The Church of God Sabbath-Keeping became her place of worship. Doris is Mother, Mom, Mommy, Mama, Grandma, Gram, Gong Gong, Gram Cracker, Auntie Dor, Mother Downer, Missionary Downer, and Mother D to many. She lived an unselfish life, but she was sure to "occupy" as said in scripture until… She travelled, enjoyed church – especially conventions, enjoyed fashion, danced and laughed a lot, cooked and ate a lot, and certainly enjoyed her family. She touched many lives and will always be remembered. She is survived by her brother Lester, sisters Pauline and Millicent, six children Hazeline (Toots), John (Bunny), Peter, Patricia, Rosemarie, and Paul, 19 grandchildren, 15 great grandchildren, many brothers and sisters in Christ, and many friends and relatives who love her dearly. Mom, your legacy will live on. Not having you in our lives is extremely painful, but it is glorious at the same time. You transitioned into the portals of glory, and upon entering, you received a standing ovation. Enjoy your rest, you earned it. Online condolences at newediukfuneralhome.com
January 13, 2021
01/13/2021
Recommend Doris Agatha's obituary to your friends.
Obituary
DOWNER, Doris Agatha - On December 28, 1925, a beautiful girl with long curly hair named Doris Agatha Downer, was born to Mary and Benjamin Grant in Ulser Spring, Trelawny, Jamaica, West Indies. Doris is the eldest of nine siblings — five sisters and four brothers. Her sisters' names are/were Joyce, Monica, and Leithey (all deceased), and Pauline, and Millicent. The names of her brothers are/were Johnny, Rupert, and Daniel (all deceased) and Lester. Doris lost her mother at the tender age o...
Events
There are no events scheduled. You can still show your support by planting a tree in memory of Doris Agatha Downer.
Plant a tree