Sign In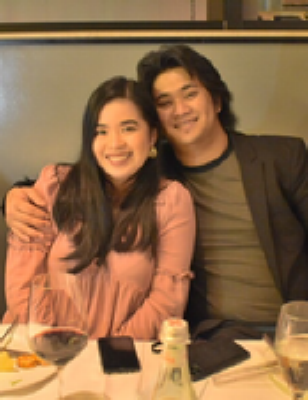 Mr. Deanmark Pantin Bohol
<p>This is Arlene, mother of Deanmark. I would like to share a brief but beautiful story of my son before he left us. He was born on the 22nd of January 1999 at Abuyog Leyte Philippines and he is my youngest son. He grew up to be a very sweet little boy, always friendly and energetic. When he was 6 years old I decided to work abroad, he grew up together with their father and his older brother Denly. He finished his elementary and highschool at Philippines and at the age of 15 year 2015 they migrated here in the USA. His first job here in the States was at a coffee shop on the Central Church of God, he worked there for 6 months. After that, he started working at Yafo Kitchen, he worked there for five years, he earned a Sous Chef position because of his perseverance and hardwork. Deanmark is goal driven, he will work hard for his goals and achieve everything.<br /> <br /> Way back December 2015, that&#39;s the first time where Deanmark and Paola met for the first time. Me and Tria, Paola&#39;s mom are friends so we intoduced them to each other and later on they became friends. They worked together at Yafo for quite sometime and that&#39;s where they developed and started their friendship that turned into a beautiful relationship. They traveled together and they&#39;ve spent most of their time being together. They&#39;ve been to almost all the restaurants and milktea places here in charlotte and also have been to a lot of adventures together. Deanmark would always cook korean food for pao because he knows how much pao likes it. Their life even became more colorful when they got their first dog, Maki. They loved their dog so much, they treated it just like their very own baby. They&#39;ve been living their life doing the things they love. They both love doing surprises everytime that during this time they also ended up surprising all of us by their passing away. Up until now, they&#39;re inseparable. They left us together, they&#39;re walking a different path together and there they are up there guiding us together. This is God&#39;s way of saying that they are really for each other, that they really love each other and that no matter what happens they will never leave each other. We gained two beautiful angels with nothing but beautiful and kind souls.<br /> <br /> As a son and a brother, I have nothing to say about deanmark. He&#39;s very sweet, loving and caring to me, to his brother and to everyone close to him although he&#39;s sometimes shy enough to show it. He would call from time to time to check on us and know how we&#39;re doing. He will always cook and bring food home. He cooks the best steak and he can do a lot of different cuisines. His bosses at work would always recognize him for doing a good job at work that&#39;s why a lot of restaurants are trying to hire him. He might be stubborn and hard headed sometimes but he got the softest heart. Deanmark and his brother&#39;s bonding is unbreakable. I know how broken my eldest son is because of what happened to his brother. They&#39;ve spent half of their lives together. They do everything together, cook together, play basketball together, drink together, do everything they love together. This will be hard for us but we have to keep going.<br /> <br /> Ria Paola and Deanmark left us so early, so soon. But who are we to question God&#39;s plan and purpose? Wherever they are right now, one thing is for sure, they are happy. To all of Deanmark and Paola&#39;s friends and family, we are thankful for having you in their life. To everyone who sent their condolences and deep sympathy, we appreciate it so much.<br /> <br /> Visitation will take place on Monday, November 30th from 3:00-7:30 PM at Carolina Funeral Service and Cremation Center, 5505 Monroe Rd, Charlotte. Social Distancing and Masks are required for the walk thru visitation. A funeral service will follow at 7:30PM.<br /> <br /> We will be offering Live Showing of the Funeral Service for all family and friends who can not be here. <a href="https://my.gather.app/remember/deanmark-pantin-bohol-ria-paola-salanga-gaspar">https://my.gather.app/remember/deanmark-pantin-bohol-ria-paola-salanga-gaspar</a><br /> &nbsp;</p>
January 22, 1999
-
November 26, 2020
01/22/1999
11/26/2020
Recommend Mr. Deanmark's obituary to your friends.
Obituary
This is Arlene, mother of Deanmark. I would like to share a brief but beautiful story of my son before he left us. He was born on the 22nd of January 1999 at Abuyog Leyte Philippines and he is my youngest son. He grew up to be a very sweet little boy, always friendly and energetic. When he was 6 years old I decided to work abroad, he grew up together with their father and his older brother Denly. He finished his elementary and highschool at Philippines and at the age of 15 year 2015 they...
Events
There are no events scheduled. You can still show your support by sending flowers directly to the family, or plant a tree in memory of Mr. Deanmark Pantin Bohol.
Visit the Tribute Store