Sign In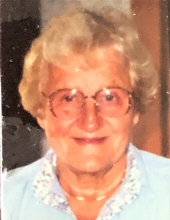 Sadie May Laramie
Sadie Mae Laramie was born July 7, 1929 in Eden Park, R.I. the daughter of Dorothy S. Dodge and Charles Dodge. She grew up for 10 years in Eden Park, and then moved to South Woodstock, CT, and four years later to Fair Haven, VT. where she graduated from Fair Haven High School. After graduation she became secretary to Dr. Edw. Stannard. She was active in our Lady of Seven Dolors where she was Eucharistic Minister and took part in many projects for the church. After Dr. Stannard died she stayed home and raised her eleven children, Lynne Colville (John) Gail Dunleavy, Paul Laramie (Bea) Jessie Steele, John and Chuck Laramie, Mary Markie (Don) Duffy Laramie, Joseph Laramie (Carrie) Jim Laramie (Dagmar) and Carl Laramie (Debbie). After the kids were off to school, Sadie went to work at Castleton Elementary School as a teachers aide for 24 years and was a volunteer librarian for 25 years at the Fair Haven Free Library. After her retirement with husband Robert in 1989, they traveled in Europe twice for month intervals. By this time they had moved to the house Bob was born and died in at 37 Fourth Street. Bob and Sadie were married for seventy years lacking two months. They courted two and a half years before their marriage in 1950. How happy these two were; Bob died March 11, 2020 and Sadie followed him soon after on October 23, 2020. Besides her children Sadie is survived by 60 grand and great grand children. All is well at the Laramie home now. Bachelor son, John, now resides there and keeps the home fires burning. Fly away home Mom, Dad is up there waiting for you. We all loved you so much. Your family. A mass of Christian burial will be celebrated on Wednesday October 28, at 11 A.M. Burial will follow in St. Mary's Cemetery.
July 7, 1929
-
October 23, 2020
07/07/1929
10/23/2020
Recommend Sadie's obituary to your friends.
S
Stikeman family
October 27, 2020
Please accept our most heartfelt sympathies for your loss... Our thoughts are with you and your family during this difficult time.
1 memorial tree were planted in memory of Sadie May Laramie.
T
Thomas C. Dodge
October 26, 2020
With love and sympathy to the entire family. From the families of Ernie and Tom Dodge (Sadie's brothers)
Peaceful White Lilies Basket was purchased for the family of Sadie May Laramie. Send flowers
A tree was also planted in memory of Sadie May Laramie.
J
Jazzmyne Dunleavy
October 25, 2020
Miss you Gigi!! Love Miss J.
D
Denise Priddy
October 25, 2020
I always admired Sadie as a kid for her gift to paint(a natural ability), and her love of family. Sometimes I was lucky to hit one of her baking days where the kitchen counter was layered with chocolate chip cookies and us kids couldn't wait for them to cool! I would ask...
Continue Reading