Sign In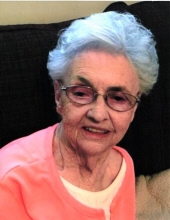 Betty Sue Aultman Brock
Betty Sue Aultman Brock, 83, of Glendale passed away on October 22, 2020 at Asbury Hospice House. Visitation will be Saturday, October 24, 2020 from 11:30 A.M. until service at 1:30 P.M. at Glendale Baptist Church, followed by burial in Roseland Park Cemetery. Mrs. Brock was a member of Glendale Baptist Church. She was a bank teller for 40 years with Regions Bank, formerly known as Deposit Guaranty. She was preceded in death by her parents, Clyde and Willie Mae Aultman; her two brothers, James Aultman and Gerald Aultman; and a sister-in-law, Elizabeth Aultman. She is survived by her husband of 60 years, Sidney "Red" Brock of Glendale; her son, Kenny Brock (Stacy) of Petal; her four grandchildren, Sam, J.K., Kalie, and Kinsey; her two sisters, Lois Rutland (Don) of Ridgeland, and Janell Langford (Charles) of Seminary; and numerous nieces, nephews, great nieces, and great nephews.
June 16, 1937
-
October 22, 2020
06/16/1937
10/22/2020
Recommend Betty Sue's obituary to your friends.
Plant a tree in memory of Betty Sue
An environmentally friendly option
B
Betty Thacker
October 28, 2020
Betty was a dear, sweet, sister-in-law. She and I have been gardening, canning, cooking. I talked to her every day. I will miss her!! Loved her.
N
Nancy Fagan
October 26, 2020
So very sorry for the loss of your mom. She was a very sweet lady. Prayers for you and your family.
H
Howard Nobles
October 25, 2020
The most precious patient to care for as a provider. She always had a smile. Praying for comfort for this Family.
M
Mark McLendon
October 25, 2020
Kenny, Very sorry for the loss of your mother. You have my deepest and heart felt sympathy. She was a lovely lady and a very special person. Your have my prayers for you and your family.
Vickie Brock Crabtree
October 25, 2020
J
Joseph Dabbs
October 24, 2020
I thought a world of Ms. Betty. She was a kind sweet lady. Michael Dabbs
Sandra Graham O'Flynn
October 24, 2020
T
Tim Smith
October 24, 2020
Mrs Betty was one of a kind! I will never forget how she truly treated me like a part of her family! Prayers for the family and so thankful for her home in heaven with Jesus!
J
JackBrock
October 24, 2020
Such a great lady you will be truly missed!
K
Katia Jimenez
October 23, 2020
A candle was posted for Betty Sue Aultman Brock.