Sign In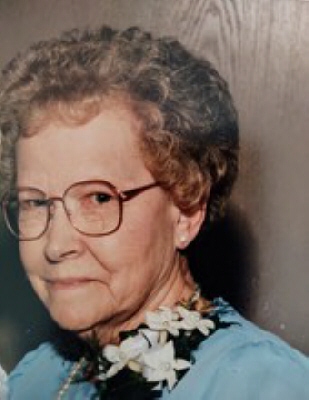 Eleanor Webster
Lincoln and Millinocket - Eleanor S. Webster passed away Thursday, October 15, 2020 in Millinocket. Eleanor was born in Springfield, April 1, 1918, during the Spanish Flu. She was the eldest child of Kate (McAlpine) and George Alfred Smith. She attended the Thompson Schoolhouse in Prentiss until the family moved to Carroll, where the superintendent informed the family that she could not attend school any longer because there was no room on the sleigh. She started first grade in Webster and finished her school there before graduating from Eastern Maine Institute in Springfield in 1935. She married her husband, Maynard H. Webster September 21, 1938. Most of her life was spent in Springfield except for a few years during the war where she and Maynard lived in Pennsylvania until she moved to Lincoln 30 years ago. She was a member of the Springfield Congregational Church and was very active in the Ladies Circle for many years. One of her greatest prides was watching all her grandchildren graduate from college as she always wanted to be a teacher. She fulfilled that dream in part, as she was a teacher aide in the Lee school system for ten years, which she thoroughly enjoyed. She was also very proud of the fact that she knit over 100 caps for the soldiers in Afghanistan while living in Lincoln, where she lived her remaining years until moving in with her daughter in 2015. Eleanor leaves behind two brothers, Ivan Smith and his wife Kathy, and Mayland Smith; her daughter, Jeannine Sanders, son, Barry M. Webster and his wife, Sharon; five grandchildren, Seth Sanders, Sean Sanders and his wife Shannon, Stephen Sanders, Jeffri-Lynn Campbell and her husband, Stephen, and Sam Webster. She also leaves ten great grandchildren, Ava and Alec Sanders, Keaton and Emerson Sanders, Aidan and Gracyn Sanders, Jordan and Gage Dyer, and Kiana and Kailyn Webster; and several nieces, nephews, and cousins. Eleanor was predeceased by her husband, Maynard H. Webster in 1979, her brothers, Elmer, Earl, Lester, Alfred, Herbert, Merlin and sisters, Beatrice Severance, Dorothy Dill and Mabel Dill. Graveside service will be held Monday, October 19, 2020 at 1:00 p.m. at the Springfield Village Cemetery in Springfield. Arrangements are by Lamson Funeral Home, Clay Chapel, Lincoln.
April 1, 1999
-
October 15, 2020
04/01/1999
10/15/2020
Recommend Eleanor's obituary to your friends.
Plant a tree in memory of Eleanor
An environmentally friendly option
1 Tree has been planted in memory of Eleanor Webster.
D
Dale and Vicki Folnsbee
October 17, 2020