Sign In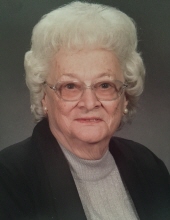 Alice M. Douglas
Alice M. Douglas, 94 years, of Oakland, Nebraska, gracefully and peacefully entered heaven's gates on November 19, 2019, with her three daughters by her side. She was born July 14, 1925, in Plainview, Nebraska, to Charles and Alice (Sirek) Tepner. On November 7, 1943, Alice married Keith M. Douglas and adored almost 59 years with the love of her life. To this union, three daughters were born, Diane (Joe) Cohen of Encinitas, California; Cindy (Bob) Klein and Donna (Terry) Geviss, all of Lincoln, Nebraska. Alice graduated from Plainview High School in 1943 and attended Norfolk Jr. College (Northeast Community College). She spent 12 years as a rural K-8 schoolteacher in Pierce, Burt and Washington counties. She later worked 22 years at Holmquist Grain and Lumber, as a bookkeeper. Alice was a 50-year member of the First United Methodist Church of Oakland and The Order of Eastern Star, where she served as past matron. She also belonged to the VFW Ladies' Auxiliary, United Methodist Women, and Plainview Congregational Church's Women's Circle, where she served as past president. She did many volunteer activities, including Girl Scouts, where she was cookie chairman for many years, Job's Daughters, Red Cross Bloodmobile, the VFW and helped with many church activities at the nursing home. She also enjoyed teaching Sunday school. Alice was very crafty. After retirement, she was able to spend more time on her many hobbies: reading and master crafts of knitting, crocheting and making many afghans and doilies for family, extended family and friends. She loved watching the Husker Volleyball girls. To mourn her passing are her three daughters and sons-in-law; grandchildren and great grandchildren, Brittany, Corby, Josie and Jackson Mastalir of Omaha, NE, Brianne, Carl and Hendrix Williams of Vista, CA, Shane, Melissa, Harper and Bailey Klein of Omaha, Andrew, Jaamie, Ayton, and baby boy Klein of Lincoln, Cory Kassmeier of Omaha; sister, Anne O'Neal; sister-in-law, Shirley Douglas; nieces, nephews and families, Mike, Patti, Rolly, Rex, Judy, Sheryl, Rick and Jim. Preceding her in her death were her parents; beloved husband, Bud; brothers, Marvin and Lawrence Tepner; brothers-in-law, Duane Douglas, Gordon Jacobs and Warren Hoffart; sisters-in-law, Joanie Jacobs and Ruth Hoffart
July 14, 1925
-
November 19, 2019
07/14/1925
11/19/2019
Recommend Alice's obituary to your friends.
Plant a tree in memory of Alice
An environmentally friendly option
M
Mrs. Meier
November 29, 2019
My condolences to all who loved and cared for Alice. May the words spoken by Jesus bring comfort and hope to all her loved ones during this time of sadness.l. John 5:28, 29 & 11:11-14, 25
B
Brittany Mastalir
December 3, 2019
D
Debbie Hanna Anderson
November 20, 2019
Alice is part of that Davis Street Gang that will be missed by her family and community. We grew up with the Douglas home having the best fall trees and leave piles in Oakland. Cindy, you probably won't remember, but we were fairly young, playing at your house and the ...
Continue Reading
S
Suzanna Boyle Anderson
November 26, 2019
B
Brittany Mastalir
December 3, 2019