Sign In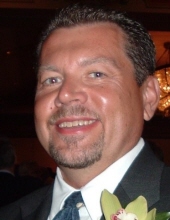 Kenneth J. Szydlowski
Szydlowski, Kenneth J. Age 56, formerly of Chicago and an active member of Calvary Church in Naperville. Devoted son of Kenneth D. Szydlowski and the late Marcella H. (nee Cuchna). Loving brother of Mary (Tom) Wollnik, Susan (Jac) Halverson and James (Kathy) Szydlowski. Cherished uncle of Matthew, Mark, Keith, Jarrett, Kyle, Daniel, Hailey and Jenna. Proud great uncle of Leah, Ethan, Ivy and Emily. Memorial Visitation Saturday, April 30th from 9:00 a.m. until time of Service at 10:30 a.m. at the Robert J. Sheehy and Sons Funeral Home 4950 W. 79th Street, Burbank, IL. Followed by a funeral procession to Queen of Heaven Cemetery for committal prayers. In lieu of flowers, contributions to the American Heart Association, 3816 Paysphere Circle, Chicago, IL 60674 would be appreciated. www.sheehyfh.com 708-857-7878
October 28, 1959
-
April 16, 2016
10/28/1959
04/16/2016
Recommend Kenneth's obituary to your friends.
Plant a tree in memory of Kenneth
An environmentally friendly option
Christine Babick
May 2, 2016
I met Ken through my niece. He was a very kind and gentle soul.
L
Linda Juszczyk
April 27, 2016
Ken will always be remembered for his kindnesses, his love of his family, his strength in his Faith. He felt things keenly, was emphatic and has a kind soul. We went to High School together, though he was 2 years older than I. I will always picture him as he was then...
Continue Reading
A
Alicia Butler
April 27, 2016
The first time I met Ken was when he was working at Feed My Starving Children. His face lit up when he talked about the results of the donations and how many boxes were packed. He always had a pleasant smile when I saw him at church. My husband and I had the privilege to...
Continue Reading
D
Dave Janecki
April 24, 2016
I remember watching him play little league baseball & how good he was. It was nice playing softball & baseball on the street with him & the other Kenton Kids! God bless him.He is in s much better place than we are.
S
Susan Szydlowski Halverson
April 23, 2016
The Broken Chain...
We little knew that morning that God was going to call your name.
In life we loved you dearly,
In death we do the same.
It broke our hearts to lose you,
you did not go alone;
for part of us went with you,
the day God called you home.
You left ...
Continue Reading
Jan Janecki
April 23, 2016
Kenny was always a gentleman and such a kind person. He was always nice to me and my family, and I have fond memories of our child hood on Kenton Avenue. He was very loving to his family, especially his parents. He will be missed by so many.