Sign In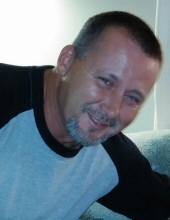 Clayton Floyd Greene
Clayton Floyd Greene April 30, 1962 – December 11, 2015 Clayton F. Greene, 53, of Sandusky, passed away late Friday evening, December 11, 2015 at Stein Hospice Care Center following a brief illness. Clayton was born April 30, 1962 to Gifford Greene, Jr. and Grace (Gilbert) Greene. He was a graduate of Sandusky High School and worked 12 years as a machine repairman at Dixon Ticonderoga. Clayton was a member of the Second Chance Chapel. In his spare time he enjoyed fishing, hunting, repairing cars, and motorcycles. His greatest joy was spending time with his family especially his children and grandchildren. Clayton is survived by his father, Gifford Greene, Jr. of Sandusky; son, Adam Greene of Sandusky; daughter, Amanda Greene of Columbus; four sisters, Patty (Lonnie) Shimer of Castalia, Alice Bryant of Sandusky, Linda (Dave) Murphy of Sandusky, and Mary Lichtle of Castalia; two brothers, James Greene of Monoroeville and Donald (Linda) Greene of Sandusky; significant other, Kim Hahler; two grandchildren, Jailynn and London Greene; and many other loving friends and relatives. Clayton is preceded in death by his mother, Grace (Gilbert) Greene; and 3 brothers, Danny Greene, Clyde Greene, and Robert Greene. Friends and family may call on Tuesday, December 15, from 5:00 to 8:00 pm at Groff Funeral Homes & Crematory, 1607 E. Perkins Avenue Sandusky, OH. Funeral service will be held at the funeral home on Wednesday, December 16, at 11:00 am. Burial will follow at Meadow Green Memorial Park, 2602 Bogart Road, Huron, OH. Pastor Donald Greene will be performing the services. Those wishing to contribute to Clayton's memory may do so to Groff Funeral Homes & Crematory, 1607 E. Perkins Avenue, Sandusky, OH, in care of the family.
April 30, 1962
-
December 11, 2015
04/30/1962
12/11/2015
Recommend Clayton's obituary to your friends.
Plant a tree in memory of Clayton
An environmentally friendly option
My deepest condolences to the family on the loss of your loved one. And may the Father of tender mercies and God of all comfort continue with you to comfort and sustain you through this difficult time. (2 Corinthians 1:3-4)
K
Kim Hahler
December 13, 2015
RIH my love, I love you forever
Heart was posted for Clayton Floyd Greene.