Sign In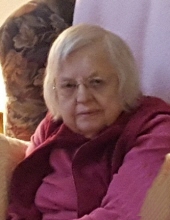 Marilyn D. Niehaus
Her Legacy.....Niehaus, Marilyn, age 90 of Stockbridge passed away at home December 11, 2015 under the loving care of her family. Marilyn was born November 7, 1925 in Freedom Twp. to Walter and Clara (Tirb) Beuerle. She married John Niehaus on August 28, 1948 and he preceded her in death in 2009. Marilyn was a life-long member of St. John United Church of Christ. She was a nursing school graduate and enjoyed running the family farm. In her spare time Marilyn spent time gardening and baking. She was first and foremost a mother and homemaker. Her love for family will carry on in the lives of her children, grandchildren and great grandchildren. Her Family....Marilyn is survived by her daughters: Mary (Dan) Wilson, Cindy (Bill) Kemner; sister: Ruth Adams; grandchildren: Joanne (Ron) Rentfro, Jeffery (Michelle) Kemner, Nathan (Azadeh) Wilson, Penny (Corey) Wilson; 8 great grandchildren. In addition to her husband, Marilyn was preceded in death by her brother: Walter Beuerle Jr. Her Farewell...Marilyn's family will greet friends on Sunday, December 13, 2015 from 3 - 6 p.m. at Borek Jennings funeral Home, Legacy Event Center, Manchester. On Monday, Marilyn's family and friends will gather at 10 A.M. at St. John United Church of Christ until the time of her Community Farewell at 11:00 A.M. with Reverend Jeanne Lamion officiating. Interment Mount Hope Cemetery. In Marilyn's honor, memorial donations may be made to Manchester Seniors Transportation or Stockbridge Community Outreach. Please sign Marilyn's guestbook at www.borekjennings.com or leave a message of comfort for the Niehaus family by calling 877-231-7900.
November 7, 1925
-
December 11, 2015
11/07/1925
12/11/2015
Recommend Marilyn's obituary to your friends.
Plant a tree in memory of Marilyn
An environmentally friendly option
S
Stephanie Campbell
December 11, 2015
Cindy and family,

Just last night I was going through all my xmas recipes to bake this weekend and I pulled out the cookbook of your mom's that you copied for me as I plan to use the Lebkuchen recipe and her fruitcake recipe as well. As I was going through the cookbo...
Continue Reading
T
Tribute Store
December 11, 2015
Pink Potpourri Bouquet was purchased for the family of Marilyn D. Niehaus.