Sign In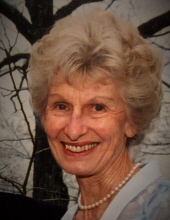 Anna C. Rigassio
On Friday August 9, 2019, Anna Claire Rigassio, loving wife, mother, grandmother, aunt, sister, friend, and neighbor, died at the age of 89. Anna was born on July 1, 1930 in Fanwood, NJ to the parents of Clara Winkler and Cornelius Veelenturf. She grew up in Hopewell, NJ, and between fashion modeling in New York and working at a bank in Pennington, she embraced adventures such as driving her convertible to California and skiing in a Vermont snow storm. Anna married James Louis Rigassio on September 5, 1959 and moved to Summit, NJ in 1963 where she resided for the past 56 years. Anna raised three daughters, Nancy, Anita and Diane, and one son, Jim; and became grandmother to two boys and a girl, James, Hugh and Emma. Family and friends knew Anna as elegant, generous, considerate and kind. She was a devout Catholic finding meaning in the teachings of Christ. Practicing her faith, Anna was humble, selfless, kind, and diplomatic. Nurturing, curious, and with a love of nature, Anna became a Certified Master Gardener. Interested in sharing with and caring for others, she found fulfillment through volunteer work and continuing education. Her family also knew her as a gifted and adventurous cook, able to produce nutritious meals at home, on a boat, or at camp. Anna was compassionate and brave as a caregiver for her husband, and in recent years was courageous and hopeful when battling her own ailments. Anna will be remembered as a sentimental loving person, gardener, traveler, first mate, and fitness enthusiast. We will miss her physical presence, but are comforted knowing that she departed this world peacefully at home with family, and now joins her husband and parents in heaven. A Memorial Mass will be held on Wednesday, August 21st at 10:45 AM at St. Teresa of Avila Church in Summit, NJ. In lieu of flowers, if you would like to make a gift in Anna's memory please consider these two organizations: <a href="https://www.summitdominicans.org/secure-online-donations">https://www.summitdominicans.org/secure-online-donations</a> <a href="https://www.reeves-reedarboretum.org/get-involved/donate/">https://www.reeves-reedarboretum.org/get-involved/donate/</a>
July 1, 1930
-
August 9, 2019
07/01/1930
08/09/2019
Recommend Anna's obituary to your friends.
M
Mary Damato
August 14, 2019
My name is Mary Damato and I had the privilege and blessing of working with Anna as her personal trainer. I met her at the Connection in Summit 5 or so years ago, and then for the last three years I was coming to her home weekly to exercise with her. Anna was a beautifu...
Continue Reading
Margaret Core
August 13, 2019
Jim and Mimi and the whole Rigassio family. We send our condolences from your Virginia friends. The times I met Anna, I knew where your sense of adventure derived from and your love of family. May you always feel her deep love for you in your hearts.
J
Jim Rigassio
August 12, 2019