Sign In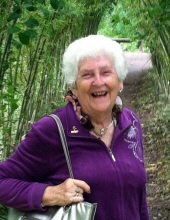 Barbara Jean McCauley
Mrs. Barbara Jean McCauley of Saint Pauls was born on September 19, 1937 in Old Town, Maine to the late Walter J. Parks and the late Ida Louise Brooks Parks. She departed this life on Agust 9, 2019 at Cape Fear Valley Medical Center completing her journey of 81 years. Along with her parents, she was also preceded in death by her son: James Walter McCauley S/SGT USAF. Mrs. McCauley was a member of the Forever Young Charter of the Red Hat Society in Fayetteville. She was an avid bowler through the years in Fayetteville. As a young girl she was a professional singer and she was also a professional cake decorator. She passed her talent of singing to her daughter. She is currently a church member at Lumber Bridge Presbyterian Church. Mrs. McCauley leaves to cherish her memories, her husband: John McCauley of the home; two children: Annette Griffin and husband Jeffery of Portsmouth, New Hampshire and John P. McCauley, ETCS (USN-RET) and wife Ricki of Olathe, Kansas; a daughter-in-law: Tomoko Myagi McCauley; nine grandchildren; seven great-grandchildren and a host of relatives and friends. The family will receive friends Tuesday, August 13, 2019 from 6-8 P.M. at Boles-Saint Pauls Funeral Home. The memorial service will be Wednesday, August 14, 2019 at 11 A.M. at Lumber Bridge Presbyterian Church. Services entrusted to Boles-Saint Pauls Funeral Home.
September 19, 1937
-
August 9, 2019
09/19/1937
08/09/2019
Recommend Barbara's obituary to your friends.
L
Larry and Lisa
August 13, 2019
We are so very sorry for your loss and the sadness that it brings. You remain, as always, in our thoughts and prayers. Love, Larry and Lisa
S
Sheriff Burnis Wilkins
August 12, 2019
Blessed are they that mourn for they shall be comforted. Matthew 5:4
Sharing your deep sorrow and wishing you comfort and peace.
M
Mike & Vickie Gunn
August 12, 2019
K
Kim Harrington & Anne Bothwell
August 12, 2019
T
Tomoko McCauley
August 11, 2019
T
Tribute Store
August 11, 2019