Sign In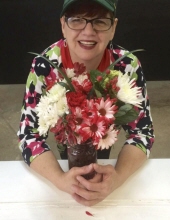 Kimberly Sue Stigler
Kimberly Sue Stigler (nee Benzinger), passed away on February 28, 2019 at her residence. Born September 10, 1959, in Campbell County, KY, to the late Joseph and Joan Benzinger. Loving mother of Allison Stigler (Tim Fagel), and David Stigler. Beloved companion of Michael Moore. Grandmother of Avery Luckey, Thomas, Joseph, Joshua, and Matthew Moore. Sister of Holly Hatterick (Tom), Lynn Raver (Dan), Joe Benzinger, Todd Benzinger (Nicole), and Brian Benzinger (Laura). Aunt of Stacey, Shannon, Scott, Eric, Mark, Caroline, Susan, Justine, Presley, Grant, Kelcey, Brooklyn, Braxton, Braden, Brett, and Easton. Step-mother of Jenni Luckey (Chris), and Greg Moore (Lora). Also survived by her grand-dog Graham. Kim loved music, was the life of the party, enjoyed cooking, and loved being an aunt to all her nieces and nephews. A memorial gathering will be held at E.C. Nurre Funeral Home on Friday March 8, 2019, from 6:00 PM until time of memorial service at 8:00 PM. In lieu of flowers, the family has asked for donations be made to Kim's favorite place to shop, Society of St. Vincent de Paul, District Council of Cincinnati, 1125 Bank Street, Cincinnati, Ohio 45214.
September 10, 1959
-
February 28, 2019
09/10/1959
02/28/2019
Recommend Kimberly's obituary to your friends.
J
Jane Ciaccio, neighbor
March 11, 2019
Kim made our apartment complex a nicer place in the short time she was with us. She bought hanging baskets of flowers for our front entrance and spent a lot of time watering and pruning them. She was such a high-energy person, always bustling around getting things do...
Continue Reading
Too short, her time here on Earth. Kim was my valiant and talented teammate on the NRHS swim team when we were freshman in 1973-1974. She was SO fast! Coach Crozier used to say, just add water and watch her go! Nobody could beat her. My swimming abilities paled in c...
Continue Reading
Tony,Tony,Tony are you going to bring Ryan to see Grant play tonight? Kim made sure this 11 year old had a night to remember! Certainly many thanks to everyone that was there and treated Ryan to memories of a lifetime! I will see you in Heaven Kim, this world I really th...
Continue Reading
D
Deb Hendricks Logan
March 5, 2019
Prayers for peace and comfort for the entire family. While I haven't seen Kim for many years, I have such great memories of the time we spent living across the street on Behymer. Kim was then (and apparently continued to be) a VERY positive and loving person. She will b...
Continue Reading
Kim was a amazing person I will miss her so much...rip my friend a I love you
C
Cathy Snider Riggin
March 4, 2019
So sad to hear about Kim! Thinking of you and the family, Mike.
H
Hutton Jones
March 4, 2019
I am saddened to hear the news of Kim's passing . The world has less joy , no doubt .
My connection to Kim and the Benzinger family came when the Jones family moved into Pierce Township in March 1971 and Kim and I were in the same 6th grade class . I have very vivid...
Continue Reading
My best friend ever. I'm going to miss you dearly. So many memories. So many goofy things we did over the years. A big piece of my heart is now missing. I'll cherush our friendship always. Plus. All the pictures I have of us over the years. What a pair we were. Love you...
Continue Reading
Candle of Nature was posted for Kimberly Sue Stigler.
Patsy Warden Wilson
March 4, 2019
Kim-ber-lee Ben-zing-ger, I know you are lighting up heaven, but you have left a BIG whole here on earth! I will cherish my memories of all the good times we shared. Go in Peace. Love ya!
P
Patsy Warden Wilson
March 4, 2019
So many great memories! Love you Kim!