Sign In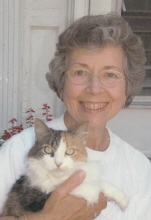 Grace M. Baylor
Grace M. Baylor, 75, of Northeast Avenue, Waynesboro, PA, passed away Monday, February 11, 2019 in Quincy Village Nursing Home. Born August 28, 1943 in Waynesboro, she was the daughter of the late Dr. Robert S., Jr. and Martha (Gourley) Baylor. Grace was a graduate of Waynesboro High School with the Class of 1962 and Shepherd College with the Class of 1967. She taught Home Economics for Waynesboro Area School District for 30 years. During her teaching career, she was especially proud of her time spent as the cheerleading coach at Antietam Junior High School. A woman who loved her community, she tirelessly volunteered in many capacitates including Waynesboro Hospital Auxiliary, Renfrew Museum & Park, Waynesboro Area Gala Cancer Auction and as a book buddy at Fairview Elementary School. She also was a member of Christ United Methodist Church and Beta Sigma Phi Sorority. A lover of needlework, whether sewing, quilting or knitting, she especially enjoyed her time with the Buchanan Quilters. She is survived by one sister, Martha B. Kirby of Waynesboro; one brother, William G. Baylor of Georgia; and many nieces and nephews. In addition to her parents, she was preceded in death by sister, Mary Jane Hess; and three brothers, Robert S. Baylor, III, John G. Baylor and G. Thomas Baylor. Services will be held at 2:00 P.M., Thursday, February 14, 2019 in Grove-Bowersox Funeral Home, 50 South Broad Street, Waynesboro with Pastor David Deatrich officiating. Burial will follow in Green Hill Cemetery, Waynesboro. The family will receive friends one hour prior to the service in the funeral home. In lieu of flowers, memorial contributions may be made to: Antietam Humane Society, 8513 Lyons Road, Waynesboro PA 17268 or Renfrew Museum & Park, 1010 East Main Street, Waynesboro, PA 17268 Online condolences may be expressed at www.bowersoxfuneralhomes.com
August 28, 1943
-
February 11, 2019
08/28/1943
02/11/2019
Recommend Grace's obituary to your friends.
F
Funeral Home Owner
April 18, 2019
T
Tammy Miller
March 3, 2019
Miss Baylor was my home Econ teacher at Antietam when I was in 8th and 9th grad. She tought how to cook and bake. I still have my receipt book from her class! She was a wonderful lady!
D
Dixie Honodel Myers
February 25, 2019
I am so saddened to read of Grace's passing. I was lucky enough to meet Grace when I was in high school with Willie, my good friend, and her brother . I remember being at their home a few times; her Mom, and all the family, were wonderful. After that, I would run into Gr...
Continue Reading
R
Regie Barbour
February 20, 2019
Grace was a wonderful and welcoming fellow knitter as I joined the Blue Ridge Knitters several years ago. I was so thankful for her help in teaching me how to knit socks. Since teaching me this skill I have knitted several pairs of socks and always have thought of her as...
Continue Reading
So saddened to hear of Miss Baylor's passing. She was a perfect example of what a teacher should be. I was privileged to have her as a teacher twice - first in kindergarten (Head Start) and then in junior high for Home Ec. Like others have mentioned, I still use her reci...
Continue Reading
E
Ellen Ankerbrand Boyle
February 14, 2019
Miss Baylor was a wonderful woman. I had her at West Jrr High. I used to see her when I would walk by her house. God bless you all
G
Geraldine
February 14, 2019
Miss Baylor was my teacher at West Junior High and I koved and admired her very much. She taught me how to make pouched eggs and I think of it every time I make them to this day. A dear dear lady. Rest in peace Miss Baylor.
V
Victor Hughes
February 14, 2019
I will always remember Grace as a classmate , friend , and fellow teacher....Her name certainly fit her as she always had a lot of ' Grace '.....Sincerely Victor Hughes
R
Ruth Gembe
February 13, 2019
Dear Family so sorry to read Graces obituary, she was a great lady and I enjoyed talking with her often.
S
Sally Yingst Manning
February 13, 2019
Dear, Sweet Grace. Being Sorority sisters for over 45 years, we shared many events together. There were other trips, taking our mothers places, movies, shows, meals. We laughed for years about Twitty City. She has been a wonderful friend and I will miss her. Fly high Gra...
Continue Reading