Sign In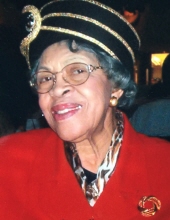 Inez Moncrief
Inez Gaddis Moncrief, 95 was born in Jasper County, Mississippi to William Lee Gaddis "Poppa" and Eunice (McGee) Gaddis on January 18, 1924. After the death of her mother at an early age, Poppa married "Mama" Ruby Moncrief becoming a father to her infant daughter, Nettie (Gaddis) McElwain. "Mama" Ruby (Moncrief) Gaddis and her Mother's sister, Mary (McGee) Moncrief introduced Inez to Lawyer Moncrief, whom she married March 3, 1942. Soon after the marriage, Lawyer was called away to serve his Country in WWII when he was injured and hospitalized until 1972. Inez and their only biological child, Laura Belle Moncrief, visited him faithfully wherever he resided (Arkansas and Chillicothe) until his release to the home that Inez made for him. Inez followed her brother Willie Gaddis from Mississippi to Columbus, Ohio following his discharge from the Army, seeking employment and found a home as a private domestic with the families of The OSU Division of Rheumatology Founder, Dr. Norman Rothermich and the Architech Mark Feinknopf for over 50 years. Inez was a Bowling Champion, International traveler and celebrated hostess famed for her homemade Pound Cake whose recipe she generously shared and physical cakes she sent all over the world; several countries in West Africa, to Japan with Momoko an Exchange Student at Fort Hayes with Lona and to Ilea and Taunn during Basic Training in the Army. She went on several cruises to the Caribbean, Canada and the Holy Land. She was known for driving to Mississippi to see the extended McGee and Moncrief families at the "drop of a hat". Bringing back a trunk full of goodies she couldn't find in Columbus to share with her family here. She loved to joke and dance, traits she inherited from Poppa, along with his love of Family. Inez joined Trinity Baptist Church on June 9, 1957 where she was a faithful member for 61 years. She was a part of the Missionary, Nurses and Usher ministries. A very special thanks to Deacon Matthew Gaddis of Shiloh Baptist Church who provided Communion to her when she was unable to travel to Trinity. In 2017, she was thrilled to contribute to a published book, Nuggets of Love: Wisdom from the Elders. First Church of God invited seniors age 70 and older to share the wisdom, knowledge and experience they have gained over their lifetime. Preparing her Heavenly Home are her husband of 57 years, Lawyer Moncrief, parents, William Gaddis and Eunice (McGee) Gaddis, step-mother, Ruby (Moncrief) Gaddis niece, Deborah Gaddis, Sister in Law, Vivian Gaddis and Daughter in Love, Ovetta (Rodgers) Flood. She leaves to celebrate her life, her daughter, Laura Belle Moncrief, two granddaughters; Ilea Tamora Carter and Lona La'Nett (Mitchell)Diggins (Johnny III), four great-grandchildren; Johanna Diggins, Johnny Diggins IV, Early Diggins and June Diggins. Her siblings Willie Gaddis and Nettie McElwain, Nieces; Alethea and Sylvia Gaddis, Nephews; Reginald Carson, Randal L. Gaddis I, Ronald McElwain, Roderick "Pooh" McElwain, Daughter in Love Mackoline (Mitchell ) Brooks, Grandson in Love, Taunn Flood (Kym), Former Son in Law Herman B. Carter and a host of great and great-great nieces and nephews.
January 18, 1923
-
October 20, 2018
01/18/1923
10/20/2018
Recommend Inez's obituary to your friends.
Plant a tree in memory of Inez
An environmentally friendly option
May the Family find some comfort with the words of Jesus Christ that are to be found in John 5:28 to where we find him here giving us a Guarrantee that he will resurrect all of our dead loved ones back to life again and then they will all be able to live on this earth fo...
Continue Reading
Dear Moncrief family. I am so sorry to have read of the death of Inez. Please accept my sincere condolences. I would like to share something that I have personally found to be comforting. It is found in the Bible at John 5:28, 29 and Revelation 21:4. (Please read) May...
Continue Reading
T
Tribute Store
October 25, 2018
Z
Zakiyyah A McGee
October 25, 2018
A candle was posted for Inez Moncrief.