Sign In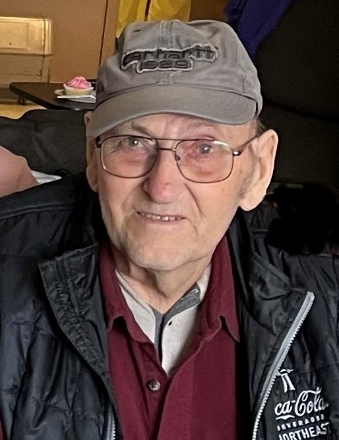 William R. Bonney
<p><br></p><p>William R. Bonney, 91, of Berlin, passed away on Tuesday September 19, 2023 at the Coos County Nursing Home. He was born in Berlin on February 29, 1932 the son of Delmar and Yvonne (Arsenault) Bonney and was a lifelong resident. He graduated from Berlin High and had been a security guard at the local paper mill for many years. Bill was a volunteer Berlin Fire Fighter and enjoyed hunting, fishing, snowmobiling, spending time with his family, hiking and tracking with GPS with Don Plante.</p><p><br></p><p>Family includes his children William Bonney and wife Roxanne of Dummer, NH and Patricia Bizier of Barrington, NH and Spring Hill, FL; grandchildren Nicholas Bonney (Britany), Aaron Peabody (Liz), Doug Thompson, Allison Glidden (Justin); great granddaughter Emma Bonney; siblings Delmar Bonney of GA and Mary Lou Kuster of GA; nieces and nephews. He was predeceased by his wife Claudette A. (Baker) Bonney on 8/22/2022.</p><p><br></p><p>Graveside Services will be held on Monday September 25, 2023 at 10 AM in the New City Cemetery. The Bryant Funeral Home is in charge of the arrangements. Donations in his memory may be made to the Androscoggin Valley Fish &amp; Game Association, PO Box 284, Berlin, NH, 03570. Online guestbook at www.bryantfuneralhome.net.</p><p><br></p>
February 29, 1932
-
September 19, 2023
02/29/1932
09/19/2023
Plant a tree in memory of William
An environmentally friendly option
Deepest Sympathy to the family
Rest in peace Bill , the Deer hunting must be incredible up there 🦌🦌🦌
D
Dominic and Jeanie Baldassara
September 22
Our sympathies to the family. Remember him fondly.
B
Bill and Karen Riff/Berube
September 21
Sending our condolences, love and prayers. Just thinking how lucky we were to grow up with neighbors who became lifelong friends.
Diana Bourbeau
September 21
Our deepest sympathy to the Bonney family 😞🙏
R
Ronald Gilbert
September 21
He once told me he shot a beautiful 8 pointer on Blue while dragging back to his truck he saw another 8 pointer, well you know the rest of the story!!!
Great man will be missed by all that new him!
R
Roland M Cloutier
September 21
To Bill and Rox and family, So sorry to hear of your Dad,s passing. I enjoyed our time together at the Fire Department. Rest in peace brother. Roland and Susan Cloutier
Stacey Goodrum Gaudet
September 20
My condolences to Roxanne Bonney, Bill and family. May he rest in peace.
C
Colleen Cassady
September 20
Bill and Roxanne. So sorry about the passing of your Father. I hope you have great memories to relive so you can remember him. He is now in the Lords hands and you will see him someday.