Sign In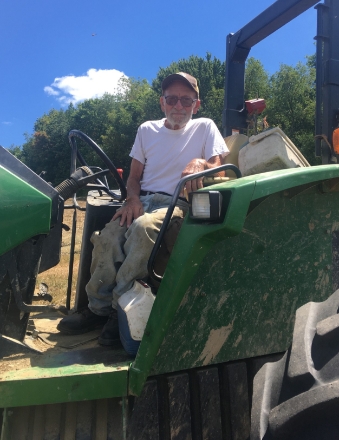 Frederick John Mattilio
<p>Fred Mattilio, 90, died on Monday, September 18, 2023 at his home after a battle with lung cancer. He received excellent at-home care from Good Samaritan Hospice.</p><p><br></p><p>He was born on September 23, 1932 in Apollo to the late Santo and Josephine (Ortenzo) Mattilio.</p><p><br></p><p>Fred was married to his loving wife Anna "Ann" for 63 years. They were married on June 24, 1961 and raised two sons on their 315-acre dairy farm, where they milked 50 cows.</p><p><br></p><p>Fred was a 1951 graduate of Shannock Valley High School. He was drafted into the United States Navy in 1955 and served for two years, where he traveled to Hawaii, the South Pacific, and Japan. He managed to complete his Naval service without getting a single tattoo. He was a sailor and sometimes swore like one. He served with pride on the aircraft carrier, the USS Lexington.</p><p><br></p><p>His life was that of a hard-working dairy farmer, ever mindful of the twelve-hour cycle of his milking herd. He was a man of small stature, but of strong integrity and ideals. He paid his bills on time and his word was his bond. His large hands and wiry frame told the story of his decades of manual labor. He operated farm equipment and milked cows into his 87th year.</p><p><br></p><p>Fred enjoyed plowing, working ground, planting corn, and making hay. His favorite tractor was a John Deere 4430 with a Powershift. He also enjoyed working with cows and young stock. He also enjoyed cleaning under them and bedding their stalls.</p><p><br></p><p>In addition to farming, Fred worked fulltime for 28 years at Eljer Plumbing, a bathroom fixture manufacturing facility in Ford City.</p><p><br></p><p>It is often said that a farmer's most valuable asset is his wife. Fred was keenly aware of this fact and appreciated his wife, Ann, who worked like a man, and could cook and bake like a professional chef. Ann milked the cows, tended the young stock, and kept their home in fine condition while Fred worked at Eljer.</p><p><br></p><p>Their son William "Bill" has worked side by side with Fred and Ann all of his life on their farm. They were a great team that shared the same goals and were efficient in their work. Their younger son, John, left the farm at 18 to pursue a career in Ag Business.</p><p><br></p><p>Fred was a good provider for his family and taught his sons the value of hard work, frugality, integrity, and respect for the working person. He was not an overly religious man, but he prayed over every field of corn that he planted, asking God to bless it and that it may yield abundantly.</p><p><br></p><p>Fred and Ann's son, Bill, has a daughter, Ashley (Brian) Metz and a son, Michael Mattilio. Ashley and Brian have three children, Teddy, Bella, and Joey. Their younger son, John and his wife, Melissa have four children, Chloe, Clare, Dominic, and Victor Mattilio.</p><p><br></p><p>He was preceded in death by his parents; younger brother, Leio; older sister, Mary Ling; and his younger sister, Hellen.</p><p>Fred will be sadly missed by his family and friends.</p><p><br></p><p>Friends will be received on Friday, September 22, 2023 from 7 to 9 p.m. at the Carson/Boyer Funeral Home, Inc., Rural Valley. An additional hour of viewing will be held on Saturday, September 23, 2023 from 10 to 11 a.m. with a Blessing Service immediately following at the funeral home.</p><p><br></p><p>Burial will take place in the Sacred Heart Cemetery, Sagamore.</p><p><br></p><p>In lieu of flowers, memorial donations may be made to Frontier Harvest, Ministries of Ford City, 757 Prospect Street, Ford City, PA, 16226 or to the American Cancer Society, PO Box 6704, Hagerstown, MD 21741.</p><p><br></p>
September 23, 1932
-
September 18, 2023
09/23/1932
09/18/2023
T
Tom & Barbara Nepi
September 22
Tom and I were sorry to hear of Fred's passing. We send our love and condolences to his wife Ann, his sons Bill and John , their wives and grandchildren. May he rest in peace.
Tom & Barbara Nepi
T
Tammy olinger
September 21
To my special friends that I will always hold close to my heart I've truly enjoyed taking care of Fred-o during his hospice care ❤️ my thoughts and prayers to your family during this difficult time. Tammy olinger Good Samaritan Concordia🙏
E
Edward Rising
September 20
Our condolences to the Mattilio family.
Fred always had a smile and a wave as he passed by on his tractors.
L
Lorrie Dimaio
September 20
Our deepest sympathy to Bill and his family. Your Dad will be greatly missed. Love and hugs. Frank and Lorrie Dimaio
M
Martin and Deb Wilhelm
September 19
Sincere condolences for the Fred Mattilio family, from our family to yours.
Hugs, Love and Prayers for you all.
Martin and Deb Wilhelm
A candle was posted for Frederick John Mattilio.
A
Anthony DiMaio
September 19
Fred was a great person and will be missed. I worked with Fred at Eljer for 8 years and I knew him all my life from coming in our market he was a very hard worker my sympathy to the family
J
Jeff and Maxine Fairman
September 19
Fred was on of kindness neighbors and hard worker from morning to dark. My deepest sympathy