Sign In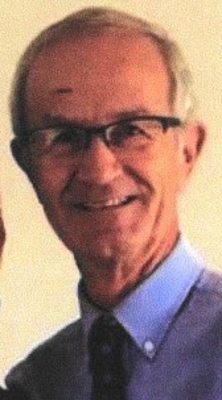 Herbert Joseph Boland
<p>The death occurred suddenly at the Prince County Hospital, Summerside, P.E.I. on Tuesday, May 30, 2023 of Herbert "Herb" Joseph Boland of Summerside and formerly of Mont Pearl, Nfld., aged 71 years. Herb was born in Calvert, Nfld., to the late Ernest and Ethel (Meaney) Boland.</p><p><br></p><p>Beloved husband of Diane (Maher) Boland and loving father of Krista (Karen).</p><p><br></p><p>Survived by his sister Sandra Boland. Predeceased by his special uncle Rob Boland and cousin Dottie O'Toole.</p><p><br></p><p>Resting at the East Prince Funeral Home, 245 Pope Rd., Summerside. By personal request there will be no visiting hours or funeral service held. Interment to take place in the Holy Trinity Cemetery, Ferryland Nfld. at a later date. Memorial donations in Herb's memory can be made to Heart and Stroke Foundation or Canadian Liver Foundation.</p>
May 28, 1952
-
May 30, 2023
05/28/1952
05/30/2023
Plant a tree in memory of Herbert
An environmentally friendly option
Dear Diane and family,
Our sincere condolences to you and your family on the death of your husband. We are thinking of you during this difficult time. May your memories bring you comfort. With love, The Bumpus/Nolan Family
My sincere condolences to Diane and Krista. I did not know Herb well but any I met him he always seemed to be a very kind and gentle person . Hugs to you both as you mourn the loss of your husband and father. May your memories give you comfort at this sad time.
Dear Diane and Krista,
We were shocked to read about Herb's sudden passing. You were simply the best neighbors one could hope for. Our sincere sympathy to you and wishing you peace.
Carrie and Richard St. Jean
C
Clara and Wayne Roberge
June 10
Diane and Krista Lynn
Our thoughts and condolences are with you both on the sudden passing of Herb. We enjoyed having you as neighbours on Aptos and Herb was a friendly guy who was always up for a chat.
My deepest condolences to family and friends
Jude Maher
Diane and family…Irene and I are saddened and shocked to learn about Herb. We are thinking of you and share your loss.
Herb was a fine person…and my friend. I have wonderful memories of you both from Cornwall. It is numbing to realize how quickly life can change.
Wayne a...
Continue Reading
P
Paul & Marnie Hillyard
June 9
Diane and Krista. Just picked up a copy of our local paper to read of Herb's sudden passing. Needless to say, we were shocked to read the news of his passing. How we both cherish the memories of you as neighbors on Munden Drive in Mount Pearl. May the support of family, ...
Continue Reading
Condolences to you Diane and Krista at this sad time.
Times like this are never easy but you will expereince great support
in PEI and on the SouthernShore.
Really sorry for your loss Diane.
Michael Boyle
Diane,

So sorry to hear of Herb's passing. My deepest condolences to you and your family at this most difficult time.
My deepest condolences to you Diane and family on Herb's passing. He was a great friend growing up in Calvert as we went fishing many times in the spring walking in the old railway track to the ponds. Also playing hockey on the Old Woman's pond in the winter. May he rest...
Continue Reading