Sign In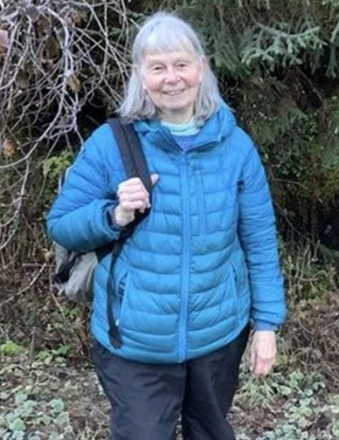 Deborah Garland Johnson
<p>Deborah Garland Johnson (née Deborah Diane Garland) passed away on May 21st, 2023, from cancer at the full age of 77, in Juneau, AK. She had been ailing for some time before her health took a sudden turn at the end. Her long illness was not without discomfort and challenges but was, thankfully, without pain all the way through to the very end. She passed with her brother, Jon, in attendance, her dear friend Mike near, and her sons, Matthew and Noah, and her sister, Kathy, on their way from the lower 48.</p><p><br></p><p>Debby was born to Dr. John Calvin Garland and Kathleen Marie Garland (née Kaser) on March 18th, 1946, in Chicago, IL. Shortly thereafter, John and Kay moved to Marshalltown, IA; where they would live for the rest of their lives and where they raised Debby along with her siblings Jon Calvin Garland, Kathy Jo Austin (née Garland), and Robert Douglas Garland. With her siblings, Debby roamed the streets of Marshalltown and explored the fields and creeks around their home, often bringing home "pets" to terrify their mother. At a young age, Debby developed a deep love of sport that would stay with her for her whole life, including a passion for baseball and softball, tennis, and basketball. In high school she was an outgoing participant in many clubs, an athlete, and an accomplished student. As a member of the First Congregational Church of Marshalltown, Debby travelled with a youth Mission to Greece in 1963, a trip that greatly informed the person she would become and forged many lifelong relationships.</p><p><br></p><p>Debby left home to attend college at St. Olaf College in Northfield, MN, in 1964. There she met John William Johnson, of Hopkins, MN, whom she later married and with whom she raised her two sons. Debby's highlights from this period of her life include social justice work, studying abroad at Oxford, and playing basketball for the college team. Following graduation in 1968 with a bachelor's degree in English, Debby pursued and secured a Master's in English literature at the University of Minnesota, before teaching English in St. Francis, MN.</p><p><br></p><p>In 1973, Debby moved to Saratoga Springs, NY, where she gave birth to her eldest son, Matthew Benjamin Johnson. Several years later, the family moved to the country outside of Clemson, SC, and Debby and John built a log house (that stands to this day) from a kit, with the help of their friends and through their own labor and ingenuity. While in South Carolina, Debby made many works of stained glass, was a founding member of the Unitarian Universalist Fellowship of Clemson, organized and coordinated anti-nuclear protests, taught at Clemson University and later at the Clemson Montessori School, and gave birth to her youngest son, Noah Christopher Garland Johnson.</p><p><br></p><p>In 1988, the family relocated to Cedar Falls, IA, by way of a summer posting in Fairbanks, AK, whetting Debby's appetite to live in Alaska on a long-term basis someday. Once in Iowa, Debby began the process of going back to school to earn a second master's degree, this time in Special Education. In this period, she taught in her hometown of Marshalltown and then in Plainfield, IA, closer to Cedar Falls where she made her home with her younger son, Noah, following her divorce in 1992 from John, for six years. On the day after Noah graduated from high school, Debby packed up a moving truck and drove to Bellingham, WA to take the ferry to Juneau, AK.</p><p><br></p><p>In Juneau, Debby made her final home, teaching until her retirement in 20XX at Dzantik'i Heeni Middle School. Debby loved teaching and felt a fierce affection for her students. She said there were only a few things that she found as enjoyable as helping young people excel, and that nothing short of raising her own children had been as fulfilling. In her free time, Debby spent time in the great outdoors of Alaska as much as she was able to, hiking, fishing, and camping whenever she could find the time. While her love of the outdoors drew Debby to Alaska in the first place, it is likely odds that the community of music she found here sealed the deal forever. She loved the weekly music groups of which she was a part, the choirs she sang with at Church and in the community, and the annual showcase of Folk Fest. In both music and outdoor pursuits, her simpatico was Mike Truax, a true friend that was with her until the end, alongside her brother Jon, when her sons and sister were trying to reach Juneau before her passing.</p><p><br></p><p>In her retirement, before her sickness curtailed her activities Debby continued her playing music and spending time outdoors—often bringing home stories to terrify her sons in the long, detailed, weekly phone calls that she made unfailingly throughout her time in Juneau. In addition, she was active in church matters at the Juneau Unitarian Universalist Fellowship, and—ever the student—kept herself busy taking courses in pottery at UAS.</p><p><br></p><p>In all eras of her life, Debby made the effort and took the time to remain in correspondence with the many remarkable and loving people who she came to know as friends, family, and spiritual kin. As a student of the world, Debby loved to travel, and many of her peregrinations centered upon visiting a friend from childhood, an extended relative, or a place that she had previously only read about in books. She was a compassionate big sister to her three siblings, an exemplary mother to her two sons, a loving grandmother to her four grandchildren, and a steadfast friend to many.</p><p><br></p><p>Deborah Garland Johnson was an erudite mind, a quiet but fiercely caring heart, a devoted music-lover and an earnest musician, an artist, a mentor, a teacher, an advocate, a friend, a daughter, a sister, a mother, and grandma. We shall not look upon her like again, but we are joyous for the time we did have to know her, and will cherish her memory and the lessons we carry from her example, to the ends of our days.</p><p><br></p><p>Debby is survived by her siblings Jon, Kathy, and Bob; her sons, Matthew and Noah; her daughters-in-law, Darcy Fair Johnson and Jessica Fiedler Johnson; her grandchildren Lucas, Stella, William, and Evelyn; and is preceded in death by her parents, John and Kay.</p><p><br></p><p>A memorial service will be held at the Cedar Valley Unitarian Universalist Fellowship at 3912 Cedar Heights Drive, Cedar Falls, IA 50613, at 1:30pm on Saturday, June 3rd, with light refreshments to follow. A memorial gathering was also held in Debby's honor by her friends and family in Juneau on Wednesday, May 24th, at Skater's Cabin, near her home.</p><p><br></p>
March 18, 1946
-
May 21, 2023
03/18/1946
05/21/2023
Plant a tree in memory of Deborah
An environmentally friendly option
I had Mrs. Johnson for 9th grade at St. Francis for the 69-70 school year. She was excellent and went out of her way to do extra things for us. A few of us went to the movie Z that year with her in downtown Minneapolis. The pictures are from the 72-73 school year when ...
Continue Reading
M
Mike And Celeste Lopez
July 18
A candle was posted for Deborah Garland Johnson.
L
Legacy Funeral Homes and Cremation Services
May 24