Sign In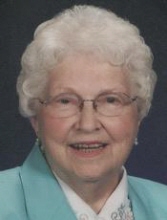 Frances B Bishop
Frances B. Bishop Houlton Frances B. Bishop, 89, passed away peacefully and went to be with her Lord on January 11, 2012 at a local hospital, with family and special friends by her side. She was born September 7, 1922, in Chapman, daughter of Walter A. and Lilla (Wyman) Briggs. Her greatest joy in life was her family. When her mother passed away early in life, she quickly assumed cooking and household duties at a young age, lovingly supporting her father, brothers and sister. She would use those cooking skills throughout her life as she raised her own family providing wonderful meals, including her homemade macaroni and homemade donuts. Later in life she would continue baking special treats for her children, grandchildren, and friends. She loved being a mom, supporting her children through school events, choir rehearsals, and little league games. Spending holidays with her children and grandchildren was a very special time for her. Frannie was a devoted Christian and long time member of Military Street Baptist Church and considered her friends there as extended family. Over the years she served in many capacities including church secretary and treasurer. She worked as a bookkeeper of Commodity Investment Corporation and as manager of The Fabric Shop. She was a skilled seamstress, enjoying sewing, quilting and cross stitch, and was truly a crossword puzzle aficionado. She also was a devoted life-long Red Sox fan, with special affection for Pudge Fisk and later Big Papi. Frannie had a genuine, caring heart and was a dear friend to so many folks. Using her gift of nurturing, she was truly a giving and compassionate person to all whose lives she touched. Her loving legacy will continue on many times over through family and friends. In addition to her parents, Frannie was predeceased by her husband, Adrian, brothers Aubrey Briggs and Sterling Briggs, sister Glenna Briggs, and daughter-in-law Jadean Bishop. She is survived by three sons, Steve Bishop of Edgewater, MD, Randy Bishop and his wife Marilynn of Veazie, ME, and Tim Bishop and his wife Debbie of Marlborough, MA; one daughter, Kathy McHenry and her husband Tom of Aiken, SC; three grandchildren, Christopher Bishop, Jessica Bishop, and Matthew Bishop; and several cousins, nieces and nephews. She will be remembered by many dear and special friends. Friends may call at the Houlton Military Street Baptist Church Monday 11:00AM until a celebration of her life at 1:00 PM with Pastor Randall Burns officiating. Spring interment will be at the Evergreen Cemetery in Houlton. In lieu of flowers, those who wish may make donations in Frannie's memory to the Military Street Baptist Church for the City on a Hill project, or a charity of their choice, care of Dunn Funeral Home 11 Park Street Houlton, ME 04730. Online condolences and guest book at dunnfuneral.com.
September 7, 1922
-
January 11, 2012
09/07/1922
01/11/2012
Recommend Frances's obituary to your friends.
Plant a tree in memory of Frances
An environmentally friendly option
C
Connie Kelsey
January 19, 2012
My deepest and most sincere sympathy to all of Frannie's family. She was a wonderful lady and I enjoyed knowing her.

May she rest in peace.

connie kelsey
D
Dave & Whitney Trapp
January 17, 2012
Tim and Family,

Very sorry for your loss, Frannie was a great lady. You are in our thoughts and prayers during this difficult time.
V
Vangie Commeau
January 16, 2012
I will miss my dear friend of many years. My sincere sypmathy to her family, she will be missed.
J
Joe & Cindy Rincon
January 16, 2012
Dear Kathy and Family - Lifting you in prayers for God's peace and comfort during this difficult time. Love, Joe and Cindy
Crucifix was posted for Frances B Bishop.
N
Nancy and Bill Downey
January 16, 2012
Dear Tim and Debbie-Bill and I send our deepest sympathy to you and your family. Our thoughts are with you today as you gather to celebrate Frannie's life. We feel fortunate to have met her at your wedding. Much love, Mom and Bill
Roses was posted for Frances B Bishop.
C
Connie Thrasher
January 15, 2012
Dear Steve, Kathy, Randy and Tim, Your mother was a part of my life from the time I can remember and always felt like she was my family. She and Mom (Cyrena) were best friends for over 60 years. Please know my thoughts and prayers are with each of you and I will treasure...
Continue Reading
Candle of Peace was posted for Frances B Bishop.
R
Rev. Jon and Patti Stratton
January 15, 2012
We love you Frannie! Family and friends you are all in our prayers.
M
Mark and Pat Miller
January 14, 2012
Kathy, You and your brothers are in our thoughts and prayers, sending you peace, comfort and love.
P
Pat & Mark
January 14, 2012
Kathy, We are thinking of you and your brothers and send our wishes of peace, comfort and love
R
Regina and Jerry Ricciotti
January 14, 2012
Steve, Timmy, Randy and Kathy. We are so sorry to hear of your mom's passing. Our thoughts and prayers are sent to all of you and please know that she is now sitting at the table with her other loved ones that have been called away from us too soon. God Bless, Gina and J...
Continue Reading