Sign In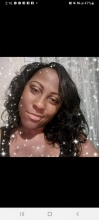 Kyla J. Kelly
The following is the YouTube Live Stream Link for Kyla Kelly on Friday, March 18, 2022 @ 10AM: https://youtu.be/5tDiYnsvEV8 Birthplace & Residence Birthplace: Alexandria, VA Resided In: Riverside, CA Viewing Location: Harvest Assembly Date: Friday, March 18, 2022 Time: 10:00 am to 11:00 am Funeral Location: Harvest Assembly Date: Friday, March 18, 2022 Service Time: 11:00 am Cemetery Location: Mount Comfort Cemetery Date: Friday, March 18, 2022 Time: Immediately Following Service
Recommend Kyla's obituary to your friends.
Plant a tree in memory of Kyla
An environmentally friendly option
R
Reese Funeral Professionals
November 24, 2022
S
Shirley Blackwell
March 18, 2022
To the family of Kyla Jane KELLY, my prayers are that GOD will comfort you at this most difficult time. Prayer is the KEY to the kingdom, faith UNLOCKS the door.
T
Torin and Rhonda Dorn Family
March 18, 2022
So sorry to hear of Kyla's passing. Wonderful memories with Kyla and the NC Hornets basketball team in Charlotte. Our thoughts and prayers are with you during this difficult time. God bless you all.
P
Pauline Hines
March 17, 2022
Kyla, your short time in our earthly universe was brief and filled with many storms. But now you are at peace. Rest well!
J
Jennifer Lucas
March 17, 2022
Brenda, my friend, my heart is saddened at the loss of your beloved Kyla. Her life was blessed with your love and care. She is now in the loving arms of the Lord. I reach out in love and sisterhood, in the hopes that my simple words will remind you of the wonderful job y...
Continue Reading
T
TIFFANI JORDAN
March 17, 2022
To my angel I never thought in a million years I would be writing this but God had other plans Ms Kyla I am going to miss you like crazy we had some good times I thank God that you were apart of my life don't you an Cara party to hard give her a kiss for me see you when ...
Continue Reading
W
William Gordon Jr.
March 5, 2022
Bren and family, our sincerest thoughts and prayers are with you today. May God continue to bless and keep you safe in His arms. Cynthia and William 'Dino' Gordon
I'm praying 🙏🏾 for your Family I will miss my Friend and my Sister I Thank God for Carla for being in my live and my Kids We Love ❤️ yo my sister 🧎🏾‍♂️🧎🏾‍♂️🧎🏾‍♂️🧎🏾‍♂️
M
Mrs. Phyllis Jordan
March 4, 2022
Our love and prayers are with you always
M
Michelle Berkley-Brown
March 3, 2022
I am so sorry for your loss. I offer my prayers and deepest condolences to the family.