Sign In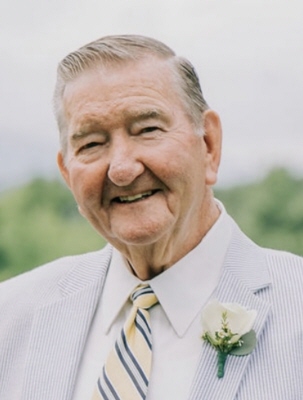 Lemuel Clay "Tap" Styres
<p>Lemuel Clay "Tap" Styres, 89, of Talladega, AL passed away on Tuesday, November 22, 2022. A funeral ceremony will be held in his honor at 2:00 P.M. on Sunday, November 27, 2022 at Usrey Funeral Home of Talladega with Laurel Thompson and Mike Gatch officiating. The family will receive friends one hour prior to the service. Interment will follow directly after the services at Hepzibah Baptist Church Cemetery. </p><p><br></p><p>Mr. Styres was a native and lifelong resident of Talladega. He was a Korean War veteran, and he retired from Alabama Power Company. He was also a member of Concord United Methodist Church. </p><p><br></p><p>He was preceded in death by his parents, Harvey and Rosie Mae Styres and brother, Billy Styres. </p><p><br></p><p>Mr. Styres is survived by his wife, Barbara H. Styres; daughters, Connie Parmer (Matt) and Tina Barber (Mark); sons, Don Styres (Sheila) and Joe Styres (Karen); grandchildren, Courtney Styres, Brittany Turner (Mitchell), Brynden Ferguson (Joseph), Caitlyn Styres, Jarod Styres, Austin Parmer, Chase Barber (Lauren), and Bayleigh Barber (Kaleb Boyd); great-grandchildren, Tristan Turner, Troy Turner, Emelyn Ferguson, Elise Ferguson, Hadley Ferguson, Hope Ferguson, and Halle Barber; sister, Patsy Hubbard and brother, Raymond Styres (Glenda). </p><p><br></p><p>Pallbearers will be Don Styres, Joe Styres, Matt Parmer, Mark Barber, Chase Barber, Austin Parmer, Mitchell Turner, and Tristan Turner. </p><p><br></p><p>Honorary pallbearers will be Raymond Styres, Rufus Styres, Alton Bates, Joseph Ferguson, Troy Turner, and Kaleb Boyd.</p><p><br></p><p>Online condolences may be offered at www.usreyfuneralhome.com.</p><p><br></p><p>Usrey Funeral Home of Talladega is assisting the family. </p><p><br></p>
January 26, 1933
-
November 22, 2022
01/26/1933
11/22/2022
Recommend Lemuel's obituary to your friends.
Plant a tree in memory of Lemuel
An environmentally friendly option
V
Vickie Petersen
November 26, 2022
Tap was always so warm and sweet when we were able to come down home. He always had a story to share about my dad, Shorty. I will remember his smile and his laugh. May you find comfort that he loved and was loved by his family and friends. We are praying for you and the ...
Continue Reading
A
Amanda Hartsfield
November 25, 2022
Tap and my dad, Raymond Hendrick, were good friends. We all went to Concord when I was a little girl, Prayers for all the family...

B
Buddy & Tinker Danford
November 23, 2022
We are so very sorry for your loss. Our thoughts and prayers are with you.
J
Joyce Elaine Housh
November 23, 2022
A precious man. Family friend and fellow lifelong church member. I never saw him without a smile. His family is precious. We will all miss him Elaine Housh
K
Kay Jordan
November 23, 2022
He was such a sweet man. Johnny and I loved him very much!!! Kay Jordan
F
Funeral Home Owner
November 23, 2022