Sign In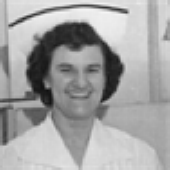 Angela Paolucci Noble
Angela Paolucci Noble passed on July 18, 2017 after a short illness. Born on February 4, 1923 in Ardsley, NY, she was the seventh of Josephine and Umberto Paolucci's nine children. She graduated from Ardsley High School in 1940 and went on to get her nursing degree at St Catherine's School of Nursing in Brooklyn, NY, followed by her Bachelor's Degree at New York University. Angela's 50-year career as a nurse included 30 years at the VA hospital in the Bronx. She was a supervisor at the VA when she retired, then continued her career at the Andrus Home in Yonkers. Her steadiness, compassion and sense of humor brought calm to the patient and the family. Whenever someone in her large extended family had a medical problem, she was always there with her soothing touch. She married Roy Noble in 1952. He passed away in 1982. She later reconnected with Fred Brickner, a close friend during her nursing school days, who passed away in 2010. Angela enjoyed travel, often by car and even journeyed across country. She loved reading, family gatherings and overfeeding the wildlife in her backyard. She was a long-standing member of the Ardsley Historical Society. "Aunt Angie" was the favorite aunt of her 15 nieces & nephews and their children, who all thought she was immortal. She is survived by her brother Bert, and her many loving nieces & nephews. In lieu of flowers, donations can be made in her name to the Rosary Hill Home www.rosaryhillhome.org and the Humane Society of the United States www.humanesociety.org Mass of the Resurrection 10 a.m. Saturday, July 22, Our Lady of Pompeii Church in Dobbs Ferry with interment to follow at Mt. Hope Cemetery in Hastings-on-Hudson. Visiting 2-4 and 7-9 p.m. Friday, July 21, Edwards-Dowdle Funeral Home, 64 Ashford Ave, Dobbs Ferry. Visitation JUL 21. 2:00 PM - 4:00 PM (ET) Edwards - Dowdle Funeral Home 64 Ashford Avenue Dobbs Ferry, NY 10522 info@edwardsdowdle.com https://www.edwardsanddowdle.com Loading map Visitation JUL 21. 7:00 PM - 9:00 PM (ET) Edwards - Dowdle Funeral Home 64 Ashford Avenue Dobbs Ferry, NY 10522 info@edwardsdowdle.com https://www.edwardsanddowdle.com Loading map Service JUL 22. 10:00 AM (ET) Our Lady of Pompeii 95 Palisade ave. Dobbs Ferry, NY 10522 Loading map
February 4, 1923
-
July 18, 2017
02/04/1923
07/18/2017
Recommend Angela's obituary to your friends.
Plant a tree in memory of Angela
An environmentally friendly option
E
Edwards-Dowdle Funeral Home
August 2
J
Janet Pelosi
July 20, 2017
Angie was a very special lady and even though we weren't related I considered her family. I always looked forward to my visits up north so I could spend time with her. We spoke on the phone just about every night, sometimes for as much as an hour. I probably bored her to...
Continue Reading
P
Peaceful White Lilies Basket
July 20, 2017
Peaceful White Lilies Basket was purchased for the family of Angela Paolucci Noble .