Sign In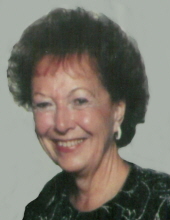 Patricia "Pat" Kruse
Patricia "Pat" Kruse, 90, of Charles City, passed away Monday, May 9, 2022 at the 11th Street Chautauqua Guest Home in Charles City. A memorial service for Pat Kruse will be held at 2:00 p.m. on Saturday, Saturday, May 14, 2022 at First Congregational Church in Charles City with Pastor Forrest Cornelius officiating. Everyone is welcome for refreshments and fellowship following the service. Inurnment will be at Riverside Cemetery in Charles City. A gathering of family and friends will be held one hour before the service at the church on Saturday. Patricia Kay (Slinger) Atherton Kruse was born on April 24, 1932 in Charles City to H.A. "Haddy" and Katheryn (Ward) Slinger. She graduated from Charles City High School in 1950, and then attended the University of Northern Iowa earning her B.A. in Elementary Education in 1953. Pat taught 2nd grade at Washington School in Charles City for 34 years. Pat was united in marriage to Robert E. Atherton in 1953. This union was blessed with two children: Gregory and Kimberly. After Robert's passing in 1991, Pat married Byron Kruse in 2002. Pat was a member of P.E.O. for 73 years and served as a past president. She was also a member of First Congregational Church where she served on the Prudential Board for two terms, music committee for many terms and was involved with the choir for 46 years. She was also active with the Charles City Singers for 15 years. Pat was an avid gardener and reader. She loved teaching her 2nd graders, traveling the world with Byron, spending warm winters in Florida and playing Bridge with friends in her women's groups and her coffee groups. Pat is survived by her husband, Byron; children: Gregory (Carmen) Atherton, Tom (Julie) Kruse, Kurt (Angel) Kruse and Kathy Kruse; grandchildren: Nat (Amy) Hansen, Jared Hansen, Ashley (Nate) Thompson, Amanda Atherton, Garrett Atherton, Allison Atherton, Neil Mink (Leti Coral), Kayla Kruse, Kellie (Chris) Nixon, Gabby (Morgan) Ivy and Alex Parks; and great-grandchildren: Bryce Green, Emily Green, Allister Mink, Maggie Ivy, Audrey Ivy and Ellie Ivy. She was preceded in death by her parents; husband, Robert "Bob" Atherton; premature baby, Debra Sue; daughter, Kimm Hansen; and granddaughter, Misty Green. In lieu of flowers, memorials may be directed to the Charles City YMCA to be used toward the Learn to Swim Fund. Pat wanted to give a special thank you for the wonderful care she received from Dr. Paul Royer, Floyd County Medical Center (nurses and physical therapy) and Mayo Clinic (nurses and doctors).
April 24, 1932
-
May 9, 2022
04/24/1932
05/09/2022
Recommend Patricia "Pat"'s obituary to your friends.
Plant a tree in memory of Patricia "Pat"
An environmentally friendly option
Thank you for being amazing step mother in law to my sister. Rest In Peace Pat we will miss you.
B
Brent and Loretta Goughnour
May 13
Our thoughts and prayers are with you.
We are so sorry to hear of Pat' death. What a wonderful lady and friend to our family. She will be dearly missed. Byron & family, the Duroe's are praying for you at this difficult time. We will remember her fondly. Scott,Steve, BJ & David Duroe
A
Ashley, Nate and Banjo Thompson
May 13
We will forever love and miss you, Grandma. My flesh and my heart may fail, but God is the strength of my heart and my portion forever. Psalm 73:26
Byron and family, sorry to hear about Pat. Prayers to you. Tim Ferch
V
Vance Hansen and family
May 12
As always, our family offers all our love.
So sorry to hear of your loss. She was my son's second grade teacher. I will never forget her telling me that he was, " a very bright child but his handwriting is so bad he will need a full time secretary to write for him when he grows up."Little did we know that everyth...
Continue Reading
C
Cathy Simmons & Stephanie Collingwood
May 12
Ashley Thompson, we are sending our love and hugs to you during this difficult time.
Our deepest sympathies to Pat's family.