Sign In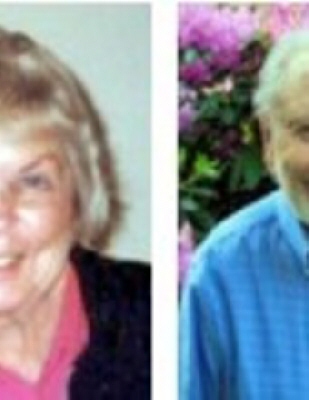 Mr. and Mrs. Robert Jarmick
Family and friends are invited to a graveside service for both Robert and Augusta Jarmick on Friday, June 24, 2022, at 11a.m. at Walnut Grove Cemetery, 817 Old Colony Road, Meriden, CT 06541. Below are the obituaries for Robert and Augusta. <br><br><br>Augusta Wright Jarmick<br>Augusta Wright Jarmick, 89, of Burdett Avenue Troy died suddenly Sunday, March 18, 2018, at her residence.<br>Born in Orange, NJ, she was daughter of the late Harold Wright and Ruth Davis Wright and wife for 67 years next month of Robert E. Jarmick. She was raised in East Orange, NJ, resided in Bloomfield, NJ and for 29 years in Poughkeepsie, prior to moving to Troy 3 1/2 years ago. She attended Rutgers University, majoring in Political Science. <br>Mrs. Jarmick was a homemaker for many years and previously was a legal secretary to the Vice President at the Prudential Insurance Company. <br>She was a member of the East Orange Junior Women''s Club and enjoyed reading and playing bridge. <br>Survivors in addition to her husband include her children, Robert M. Jarmick (Polly Zetterberg), Seattle, WA, Christopher James Jarmick, Seattle, WA, Jacqueline Mary Morlando (Christopher Thomas), North Carolina and Jennifer Ann (Louis) Marchese, Brunswick; former daughter-in-law, Azar Jarmick; two sisters, Charon Varcoe, FL and Estelle Donovan, NJ; a sister-in-law, Adelaide Wright, NJ; 10 grandchildren, Anthony and Julianna Marchese, Nathan and James Morlando, Natasha (Doug) Elwin, Natalia, Christina, Frances and Martin (Stephanie) Jarmick and James Zetterberg; two great grandchildren, Desmond Zetterberg and Pearl Jarmick and several nieces and nephews. She was predeceased by her siblings, Frederick (Alice) Wright and Harold Wright, Mildred (Larry) Beran and Ruth (Horace) Walton and two brothers-in-law, Ed Donovan and Dave Varcoe.<br><br><br>Robert Jarmick<br>Robert (Bob) Jarmick, 92, died in Hospice Care at Schuyler Ridge Nursing Home, Clifton Park, New York. <br><br>Born in Orange, New Jersey, Bob was the son of the late John and Gertrude Jarmick, and the husband for 66 years of the late Augusta (Gussie) Wright Jarmick (March 14, 1929 to March 18, 2018). An only child, he was raised in East Orange, New Jersey, resided with wife, Gussie, in Bloomfield, NJ, and then for 29 years in Poughkeepsie, NY prior to moving to Troy 5 years ago. He graduated from Seton Hall Prep, served in the US Naval Reserve from 1947 to 1955 and received his Master''s in Electrical Engineering from Newark College of Engineering (now New Jersey Institute of Technology) in 1952. <br><br>Bob worked as an Electrical Engineer at Tung Sol in Newark, New Jersey, and 30 years at IBM, in the Poughkeepsie, NY area, where he retired in 1992. Bob also studied at Dunwoodie Seminary and became an ordained deacon on May 18, 1988 in the Roman Catholic Church, receiving a Certificate of Appreciation from Cardinal Dolan for his diaconate services. He remained active in the church and church ministry for his entire life. After retirement, he also served as adjunct faculty at Marist and Mt. St. Mary''s Colleges. When residing at Beechwood Senior Living in Troy NY, he was member of the Dining Committee, and formed and chaired the Interfaith Committee, bringing religious services to the Assisted Living and Nursing Groups at the St. Peter Eddy Campus <br><br>Survivors include his children: Robert Jarmick (Polly Zetterberg), Christopher Jarmick (LeJene Normann), Jacqueline Morlando (Christopher Thomas), and Jennifer (Louis) Marchese, former daughter-in-law Azi Jarmick, ten grandchildren; Martin (Stephanie) Jarmick, James (Lindsay) Zetterberg, Frances Jarmick, Natasha (Doug) Elwin, Natalia (Justin) Jarmick, Christina (Remy) Goldstein, Nathan and James Morlando, Anthony and Julianna Marchese, and two great grandchildren; Desmond Zetterberg and Pearl Jarmick;
Recommend Mr. and Mrs.'s obituary to your friends.
Plant a tree in memory of Mr. and Mrs.
An environmentally friendly option
Hello, for two years I had $55,000 in debt, including $23,170 in credit card debt. My credit score was nothing to write home about. I managed to get most of my debt removed in bankruptcy and i was left with $9,000 car loan and $23,000 in student loans. Determined not to ...
Continue Reading
E
Elizabeth Robbins
April 13
A candle was posted for Mr. and Mrs. Robert Jarmick.
I'm very sorry for your losses! My heart goes out to the family to lose one parent is hard, to lose two, that's very difficult. May your treasured memories become a treasured gift in the days ahead. May the promises by Christ help you to endure. John 5:28,29