Sign In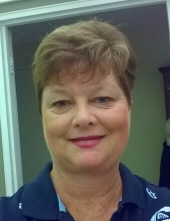 Mary Jane Maher
Rochester: November 27, 2021. Predeceased by her parents, Walter and Jane Maher; sister, Sally Gordon. She is survived by her sister, Colleen (Jacob) Bonar; brother, Martin (Nancy) Maher; nieces and nephews, Joshua (Christine) Hiller, Adam (Jenna) Hiller, Michael Maher, and Jake (fiance, Jessi) Bonar; great-nieces and nephews, Griffin, Fiona, Rachel and Emma Hiller; many dear cousins and friends. Mary Jane was a warrior who loved life. A Celebration of Life will be held at a later date. In lieu of flowers, contributions may be made to Lollypop Farm, Humane Society of Greater Rochester, 99 Victor Rd. Fairport, 14450. To share a memory of Mary Jane or send a condolence to the family visit www.anthonychapels.com.
August 19, 1958
-
November 27, 2021
08/19/1958
11/27/2021
Recommend Mary's obituary to your friends.
Plant a tree in memory of Mary
An environmentally friendly option
C
Cathy Rose Graszl
December 8, 2021
I am so sad to hear of Mary Jane's passing. She brought such joy to my life during my Rochester and Detroit years! One of my fondest memories will always be the California trip we took with our big sisters and spotting Clint Eastwood in the hotel bar. I am thinking of ...
Continue Reading
T
Tom Pestorius
December 7, 2021
We will miss MJ so much. She was always kind and caring and the life of the party. Laughing and carrying on in the true Maher tradition. Our deep condolences to Colleen, Marty and the family. She is with Uncle Bud and Aunt Jane now. Tom & Ruth Pestorius
K
Kathy McNulty
December 2, 2021
Colleen and family, My sincerest sympathy to you all. May the cherished memories you created with your sister bring you joy as well as comfort always. Kathy McNulty
L
Lollypop Farm
November 30, 2021
Our thoughts are with Mary Jane's family and friends at this sad time.
I have such wonderful memories about MJ. I used to see her at work. She retired not long ago, so her passing comes way too soon. She was a great lady, with a warm smile, and she wanted the best for everyone. My thoughts turn to Marty and the rest of the Maher family....
Continue Reading
T
Tommy Springer
November 29, 2021
Marty....so sorry to hear of your lovely sister's passing? She always had a kind word for me; whenever our paths would cross! She was a gem and will be sorely missed! My deepest condolences to you and your family! You will be in my prayers! sincerely Tommy Springer.
K
Krenzer Beth
November 29, 2021
Fond fond memories of Mary Jane at St Agnes and reunions. Happy she enjoyed her Oak Hill fun, golf and events. She was a true talented inspirational professional woman and that also was no small feat....especially back in the day. Beth Krenzer
J
Joyce Harris
November 29, 2021
Dear Colleen and Family, I was so saddened to hear of Mary Jane's passing. I have such fond memories of our days at St. Agnes. Mary Jane kept many of in touch by hosting a get together at Oak Hill Thanksgiving weekend for many years. She was so kind to host us. She w...
Continue Reading
A
Andrea Quercia
November 29, 2021
Colleen and family, I am so sorry to hear about Mary Jane's passing. She was a good friend to so many of us and a kind and generous soul. I can hear her laugh even now. Sending love and peace to you all. Andrea (Morano) and Tony Quercia
S
Sue Baumer
November 29, 2021
Colleen and Marty, I was so sorry to hear that your sister Mary Jane had died. You and your families are in our prayers. We sure had fun back in the day with your beautiful family in the old neighborhood. We're so sorry for your loss. Sincerely, Howie and Sue Baumer (...
Continue Reading
A candle was posted for Mary Jane Maher.