Sign In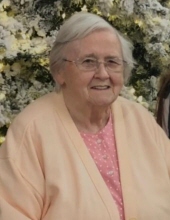 Jean Elaine Hugill
Jean Elaine Hugill, 84, of Maumee, OH and formerly of Grand Rapids, OH, passed away November 24, 2021, at The Toledo Hospital. She was born May 14, 1937, in Maumee, OH to Eugene & Mildred (Myers) VanScoder. She was a 1957 graduate of Anthony Wayne High School. She was a Pittsburgh Steelers fan and enjoyed camping and traveling with her husband. She married Roland Hugill November 22, 1957. He preceded her in death on March 5, 2012. Survivors include children, Elaine Caton, Linda Marquis, Roland "Butch" (Marina) Hugill and David (Amy Richardson) Hugill, 24 grandchildren and 23 great grandchildren. She was preceded in death by her parents, husband, daughter, Carrie Krontz, and siblings, Joan Russell, and Alan VanScoder. Visitation will be held on Sunday, November 28, 2021, from 2:00 p.m. to 6:00 p.m. at Peinert-Dunn Funeral Home, 7220 Dutch Rd., Waterville, OH. Jean's funeral service will be Monday, November 29, 2021, at 11:00 a.m. in the funeral home with Pastor Jeff Kimberly officiating. Burial will follow at Wakeman Cemetery. The family suggests giving memorials to the Alzheimer's Association or Diabetes Association. To leave an online memory please visit www.dunnfuneralhome.com
May 14, 1937
-
November 24, 2021
05/14/1937
11/24/2021
Recommend Jean's obituary to your friends.
Plant a tree in memory of Jean
An environmentally friendly option
To Jr & Family We never had the pleasure of meeting your mom, but I know your dad loved her deeply. I'm so happy they are reunited again. Jerry & Marcia Korbus
Rest peacefully Grandma, you will remain in our hearts forever.
Michael Elling
November 25
Jean is remembered at Anthony Wayne High School as, SWEET AND SEDATE, ALWAYS ON TIME, NEVER LATE. She was in the Girls Athletic Association, Generals Marching Band, the Dramatics Club, the Latin Club, and sang in Girls Glee and in Mixed Chorus. --1955 Trail Blazer, pag...
Continue Reading
E
ElaineCaton49@aol.com
November 25
A candle was posted for Jean Elaine Hugill.