Sign In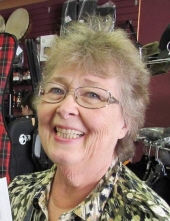 Sharon Ann Myers
Sharon Myers, age 74, went to be with the Lord on Wednesday, November 24, 2021, peacefully at home surrounded by loved ones. Sharon was born on June 15, 1947 in Manistee, the daughter of Jerry and Marcille Hutchinson. In 1977, she received her cosmetology license. She went on to obtain her instructor's license and taught at The Ludington Beauty Academy from 1979-1983. Sharon continued to study at WSCC, receiving her RN license in 1985. She worked at The VA Hospital for her first year as a nurse, moving back to Mason County in 1986, where she worked for Memorial Medical Center as a home health nurse until she retired in 2012. Sharon also ran two business out of her home: Sharon's Klip-n-Kurl from 1977-1986 and Rose Arbor AFC Home from 2004-2007. She enjoyed private duty nursing from her retirement date through 2014 when her health issues forced her to retire completely. Sharon enjoyed crafting, quilting, playing piano and accordion, playing WOW, and anything Tom Petty! She loved family get-togethers. Sharon was a strong, loving, and caring woman who always had a smile on her face. Sharon will be lovingly remembered by her children: Dawn & John Peters, Rick & Terri Myers, Deborah & Bruce Baker, Denise & Brian Dugger, as well as her children of Heart: Mary Anne Haeberle, Brendan Dust, and Maggie Clapper; her grandchildren: John Peters, Tim Peters, Brooke & Brian Flanery, Ashton Myers (Kelsey), Carson Myers, Alisha & Jordan Shilander, Oscar & Sarah Esquivel, Josh & Amanda Baker, Zach Dugger (Katherine), and Katelynne Dugger (Weston); and 9 great grandchildren; her siblings: Terry & Joyce Hutchinson, Lynette & Andy Archey, Robert Engleman (Sandy), and Hope Engelmann. Sharon was preceded in death by her son, Ronald Myers; sister, Linda Hutchinson; and her parents. She will be deeply missed by her friends, family, and all who knew her. A funeral service will be held on Saturday, November 27, 2021 at noon at CrossRoads Church in Scottville with Pastor Rich Chasse officiating. Visitation will begin at 10 am at the church. Please share your photos and fond memories of Sharon at www.OakGroveLudington.com. Arrangements were entrusted to Oak Grove Funeral Home of Ludington. <iframe class="ts_player" allowfullscreen="true" allowtransparency="true" allow="autoplay; fullscreen" frameborder="0" height="330" scrolling="no" src="https://www.tributeslides.com/videos/embedded_video/WBFYR5NC5STK8YPR" width="512"></iframe>
June 15, 1947
-
November 24, 2021
06/15/1947
11/24/2021
Recommend Sharon's obituary to your friends.
Plant a tree in memory of Sharon
An environmentally friendly option
1 tree planted in memory of Sharon Ann Myers.
J
Jennifer Dalton
November 26
Thinking of you and missing your Mom. Hugs to you all.
S
Sandy Spangler
November 26
I had only met Sharon once, but will always remember her warm smile, twinkling eyes and love of family. My love and sympathy to her family and to all who knew her. Sandy Spangler
Planning our cabin in the UP.
In Deepest Sympathy from your Hutchinson cousins Karen, Karla, Karol. Kristen and Kelly .
C
Catherine Beeman
November 25
Sharon and I were friends at MCC over 50 years ago. Enjoyed knowing her and feel Blessed to have known her.
Sharon was always so pleasant to be with. I remember spending time with her at Aunt Alvina and Uncle Pete's house. We went to the beach every day and Uncle Pete took us for ice cream every night. Prayers to your family.
Visited you 2summers ago, you will be missed, gracious lady
Tropical Dish Garden with Fresh Flowers was purchased for the family of Sharon Ann Myers. Send flowers