Sign In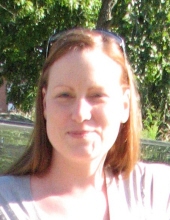 Robin Theriault
Robin Theriault, 41, of Milan, NH, passed away on October 22, 2021, at the Androscoggin Valley Hospital, due to complications associated with COVID-19. She was born in Phoenix, AZ on July 14, 1979 to Claire (Theriault) Gaeb and the late Donald Theriault of Berlin, NH. She graduated from Berlin High School in 1997 and was the only girl in her automotive class. After high school, she was proud to put her mechanical skills to good use, while working in her family's business at Eternal Machines. Later, her travels led her to California and Florida where she worked in various jobs. In recent years, she returned to the Berlin area to be closer to family. She enjoyed motorcycle riding, scuba diving, loved to crochet, and her favorite place was at the beach. She is survived by her parents Claire and Douglas Gaeb; her sister Jennifer Theriault; her brother Brian Theriault; her partner Horace Goodrum, II; her grandmother Olive Lemire; her grandfather Murill "Hook" Gaeb; her nephews Dana, Trevor, Lydon, and Daniel; her nieces Emera and Savanna; and several uncles, aunts, and cousins. She will be missed by her furry babies Ruby, Molly, and Angelica. She was predeceased by her father, her maternal grandfather Gerard Lemire, paternal grandparents Daniel and Fernand Theriault, her paternal grandmother Priscilla Gaeb, and her uncle Daniel Gaeb. There will be no calling hours or services at this time. A celebration of life will be held at a later date. Donations may be made to a charity of one's choice. Robin's family would like to encourage anyone who is not vaccinated to please do so. To share memories or offer condolences online, please visit www.bryantfuneralhome.net.
July 14, 1979
-
October 22, 2021
07/14/1979
10/22/2021
Recommend Robin's obituary to your friends.
Plant a tree in memory of Robin
An environmentally friendly option
Lucille Michaud
November 2, 2021
Claire and family, My mother, Rita Croteau, and I are sending you our deepest sympathy in the loss of your daughter. To lose a child at such a young age is difficult. You are all in our prayers. May a Robin Rest In Peace. Lucille Michaud
B
Bernadette Hrdlicka
October 27, 2021
I'm so sorry for your loss. Love, hugs & prayer. Your cousin, Bernadette (Lemire)
E
Elizabeth Schlie
October 26, 2021
Claire and Doug, So sorry for the loss of your daughter. So heartbreaking to hear. Just know that the joy of the Lord is our strength. Lean into Him and He will be there. Cry when you need to....don't hold back. Your grief is the Lord's also. Love to you both, Liz Schlie...
A
Ann Marie White
October 26, 2021
Claire, Doug and family, we are so sorry for your loss. Our prayers for strength are with you as you go through this most difficult time. Ann & Gary White
Cheryl A Roy
October 24, 2021
Claire, Doug, Brian, Jen, and family, It is with Heavy Heart we would Like to extent our Sympathies over the Loss Off Robin. Our Memories of Robin are Fond ones, when Trevor was a baby, Her pretty face, shyness, and soft soft spoken voice, will be remembered always. ...
Continue Reading
J
Jackie Gagne
October 23, 2021
I am so sorry for your loss. Keeping you all in my thoughts and prayers. May she Rest In Peace
Claire Blanchette
October 23, 2021
Claire and Doug....Ray and I are so, so sorry about Robin. No one should lose a child....it's against the normal order of life. Our hearts go out to both of you and all of your family members. You are all in our hearts and prayers. All our love, Ray and Claire Blanchett...
Continue Reading
S
Susan Roberge
October 23, 2021
Claire and family I am so sorry for your loss, my deepest sympathies
A
Annette Pinard Goulet
October 23, 2021
Sorry for your loss. thoughts and prayers to all of you .
D
Doris Fortier
October 23, 2021
Claire and Doug, our deepest condolences at the loss of your daughter. Rodney and Doris Fortier