Sign In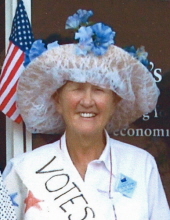 Marilyn Jean Sandstrom
Graveside services for Durango resident Marilyn Jean Sandstrom will be held at 1 p.m. Thursday, October 21, 2021 at Greenmount Cemetery in Durango, CO. Pastor Jeff Huber will officiate. Marilyn was born July 12, 1937 in Minneapolis, MN the daughter of Vernon and Carmen (Languth) Sandstrom. She passed away on Friday, October 8, 2021 at Mercy Regional Medical Center in Durango, CO at the age of 84. Surviving Marilyn are her daughter, Ann Wiley (Greg) of Durango, CO; her grandchildren, Benjamin Wiley of Manchester, TN, and Abigail Wiley of Durango, CO; her niece, Gail Cheney of Eden Prairie, MN; and her nephew, David Cheney (Pauline Li) of Kendall Park, NJ. Marilyn was preceded in death by her parents; her sister, JoAnn Cheney; and her brother-in-law, Preston Cheney. Memorial contributions can be made in Marilyn's name to the Southern Poverty Law Center, 400 Washington Ave., Montgomery, AL 36104; splcenter.org.
July 12, 1937
-
October 8, 2021
07/12/1937
10/08/2021
Recommend Marilyn's obituary to your friends.
Plant a tree in memory of Marilyn
An environmentally friendly option
D
Deanna F Collins
October 22
Marilyn was a dear friend. Her intellect and passion for women, education and democracy was unparalleled. As was her love and devotion to her family. Her life on earth was a blessing to all that she befriended and the world itself.
So very sorry to hear that Marilyn has passed on as she was a delightful person and someone who will be greatly missed. May she rest in peace. Most sincere condolences to her family! Betsy and Paul Romere