Sign In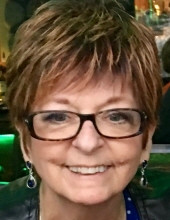 Lynne Zambrowski
Jenette "Lynne" Zambrowski Lansing Passed away on Wednesday, October 13, 2021 at the age of 77. Born September 25, 1944 to Herbert and Iris (Howarth) Bartlett in Tulsa, Oklahoma. Lynne worked as an office manager for Community Mental Health in Lansing where she retired after 27 years. Following her retirement, she went back to work managing a payee service out of her home. Lynne loved animals, especially her two Miniature Doxies Sissy and Fanci, who are both deceased. She also enjoyed working on her home, doing DIY improvements, decorating and planning for the holidays, and spending time with her family.. Most of all, Lynne enjoyed working with people and helping others. She was a beloved woman that will be dearly missed by all who remember her. Preceding her in death were her father, Herbert and sister, Marjorie. Surviving are her children, Laurie (Mike) Adelson, Teresa Hoogvorst, Steve (Morgan Walter) Zambrowski; grandchildren, Lucas (Erin) Cairns, Savannah Zambrowski, Case Zambrowski, Colton Zambrowski, Clayton Zambrowski; great grandson, Cruz Cairns; mother, Iris Dye; sister, Herbetta (George) Gondorchin as well as several nieces and nephews. A memorial gathering will be held from 5-7 p.m. on Friday, October 15, 2021 at Skinner Funeral Home, Lansing Chapel. In lieu of flowers, donations can be made to the Lansing Capital Area Humane Society. To share memories and condolences please visit www.SkinnerFuneralHomes.com
September 25, 1944
-
October 13, 2021
09/25/1944
10/13/2021
Recommend Lynne's obituary to your friends.
Plant a tree in memory of Lynne
An environmentally friendly option
D
Drew, Amanda and Lucy
a day ago
Our thoughts and prayers are with you.
Lynne was such a wonderful woman. I met her through my sister and brother-in-law Rita and Bob Truax, Lynne's neighbor. She loved her gardening and her fur babies. What a blessing it was to of known Lynne.
G
Goodines and family
a day ago
Wishing you guys peace & comfort and the courage to face the days ahead. Please know you are in our thoughts and prayers. ~the Goodines and family
M
Mark and Kim Wright
a day ago
We've always known this dear, dear lady as 'Lynne' - one of the first neighbors we'd become close to and, in a very short time, also knew her as a very close friend. The hours spent visiting with and walking with her and her two sweet dogs were so special as to be witho...
Continue Reading
Butterfly was posted for Lynne Zambrowski.