Sign In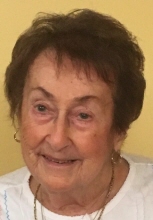 Ruth Nathalie DaSilva
<p>Ruth Nathalie (Barrows) DaSilva, of Boynton Beach, Florida and East Providence, RI passed away peacefully while surrounded by her loving family on October 22, 2019 at Hattie Ide Chaffee Rehabilitation Center in East Providence, RI following a brief illness. She was the wife of Anthony M. DaSilva to whom she was married for 49 years. Born in East Providence, RI, she was the daughter of the late Manuel A. and Mary E. (Amaral) Barrows. Ruth was known for her hospitality, and enjoyed cooking for her family and entertaining friends. For many years, she opened her home at Christmas Eve to host a large reception. Ruth was a communicant of both Saint Thomas Moore Catholic Church in Boynton Beach, Florida and Saint Martha's Church in East Providence, RI. She was a past member of Saint Martha's Heritage Committee and worked at the Portuguese Booth during their annual summer festivals. As a young divorcee, Ruth was proud of her ability to provide for her family and instilled in both of her daughters a strong work ethic. Being an extremely organized person with an eye for detail, she derived great satisfaction working as an executive secretary for Butler Chevrolet in East Providence, RI. In that capacity, she annually organized a large New Car Show Event. Ruth retired in 1978. This enabled her to follow her husband, Anthony (a Captain in the Merchant Marines) to many exciting ports of call. She was allowed to sail with him on his trips to Alaska, California, and on the Hudson River. She and her husband traveled regularly to Florida where they declared their permanent residency in retirement. Ruth remained active in her senior years attending dances, playing cards, attending theatrical performances and dining out. Ruth was also active in her condominium associations weekly BINGO and Movie nights. Ruth will be remembered as a loyal friend, a devoted wife, a dedicated mother, a proud grandmother, and a fun-loving, generous person. Her memory will live on with those whose lives she touched. Besides her husband she leaves two daughters, Beverly J. Pepe and her husband Charles L. Roy of Cumberland, RI and Sharon P. Hallman and her husband Eugene of Westford, VT, two grandsons, Eric A. Hallman of Baltimore, MD and Benjamin P. Hallman of Burlington, VT. Her funeral will be held on Saturday, October 26, 2019 at 9:00 AM from the PERRY-MCSTAY FUNERAL HOME, 2555 Pawtucket Avenue, East Providence with a Mass of Christian Burial at 10:00 AM in Saint Martha's Church, Pawtucket Avenue. Burial will be in Gate of Heaven Cemetery. Calling hours Friday 5-7. In lieu of flowers donations can be made to the Hope Hospice and Palliative of Rhode Island, 1085 North Main Street, Providence, RI 02904. Donate online, Click here. Hope Hospice of Rhode Island</p><p> </p>
October 22, 2019
10/22/2019
Recommend Ruth's obituary to your friends.
Plant a tree in memory of Ruth
An environmentally friendly option
P
Perry-McStay Funeral Home
September 14
I went to school with Sharon, her daughter.She was a beautiful and warm person. I see from the Obituary Sharon is married and apparently living in Vermont. I do remember her telling me her Dad was away often and in the merchant service. I remember her Mom as being quite ...
Continue Reading