Sign In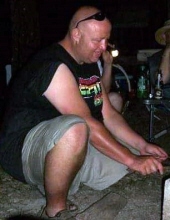 Mark Alan Townsend
Mark Alan Townsend, 50, of Granite City, Illinois passed away at 12:00 a.m. on Monday, June 14, 2021 at his home. He was born October 3, 1970 in Granite City, a son of the late Frank M. Townsend Sr. and Marcella W. (Jachimczuk) Townsend. Mark enjoyed his days of fishing and hanging with his friends. He is survived by a brother and sister-in-law, Frank and Patricia Townsend Jr. of Edwardsville; a sister and brother-in-law, Patricia and Clint Pearman of Granite City; two nieces, Bridget Townsend and Sophie Townsend; a nephew, Mackie Townsend; many cousins; special lifelong friends, Sam and Barbara Guiethues and their family; other extended family and many cherished friends. In celebration of his life, a graveside service will be held at 1 p.m. on Tuesday, June 29, 2021 at Calvary Catholic Cemetery in Edwardsville. Memorials may be made to a charity of one's choice and may be accepted at a later date.
October 3, 1970
-
June 14, 2021
10/03/1970
06/14/2021
Recommend Mark's obituary to your friends.
Plant a tree in memory of Mark
An environmentally friendly option
3 trees planted in memory of Mark Alan Townsend.
L
Love, Sam, Barb, Joey, and Jake
June 28
You left a hole in our hearts, and a large impact on our lives.
R
Rob &Tami Guithues
June 19
Mark will always be in our hearts
E
Everyone at Mills Properties
June 18
Thank-you Mark for your nearly 20 years of dedicated service to Mills Properties. You will be missed.
Mark was at my house playing with the boys all the time. He lived across the alley and was like one of the family. I remember what a hard time he had when his parents we ill. He asked for my advice when he got out of school and was job hunting. I felt honored. I wil...
Continue Reading
I grew up across the alley from this kid named Mark Townsend, from the time we met that day when I was 7 we were close. He embraced my kids as his niece and nephew and me as his brother. I introduced my brother Mark to family and friends and they embraced him. Never a d...
Continue Reading