Sign In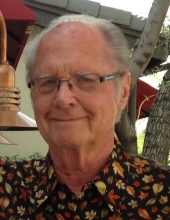 John Jacob Strobl, D.O.
Dr. John Jacob Strobl of Glendale. Arizona passed away May 10, 2021. John was born in Mt. Clemens, Michigan on May 18, 1942. He was raised in Roseville, Michigan by his parents Mary Joan (Geck) and John Strobl. He graduated from Sacred Heart High School in 1960 and attended Sacred Heart Seminary for 1 year before receiving a degree in Chemistry from The University of Detroit in 1964. He attended Chicago College of Osteopathic Medicine graduating in 1968. He married Mary Pescia on June 11, 1966, and together had 5 children. He was an OB Gyn Surgeon and had successful practices in both Flushing, Michigan and Phoenix, Arizona. Being a physician, healer and helper was very important to him and his dedication resulted in him being highly regarded by both his peers and patients. He was an innovator being one of the first to use new technology such as the laproscope and ultrasound. He was very proud of how many babies he delivered bringing thousands of new lives into the world over the course of his career. He loved cars and restoring, showing, and racing them. He often sported a jacket that said "Strobl's Show Cars" . He was a regular at the race car track with his sons, Mikey, and Johnny, who shared his love of racing, both becoming race car drivers. Another hobby he enjoyed was building model cars. He was a real music lover and had extensive knowledge of songs and bands particularly from the 1950's and 1960's. He was preceded in death by his mother Mary, father John, sister Margie, son Johnny and many beloved aunts and uncles. He is survived by his life and work partner Dr. Jacki Solomon, daughter Mary Tosto, daughter Jenny Strobl, son Mikey Strobl, daughter Sally Hamilton, brothers Dr. David Strobl and Richard Strobl, granddaughters Bella Tosto and Hayden Montgomery, grandson Lyndon Hamilton and many nieces and nephews.
May 18, 1942
-
May 10, 2021
05/18/1942
05/10/2021
Recommend John's obituary to your friends.
Plant a tree in memory of John
An environmentally friendly option
4 trees planted in memory of John Jacob Strobl, D.O..
M
Marian and George
May 15, 2021
In memory of a special friend. Love and Blessings,
D
Dawn Godzak Brown
May 17, 2021
I will remember John for his thoughtfulness, humor and generosity. Prayers for his family. We are deeply sorry for his loss.
G
Glenda Richtmyre
May 15, 2021
I am sad to hear of Doc Strobl passing. He was a wonderful Doctor and a great story teller. I had always enjoyed our visits. May you rest in peace Doc. Glenda and Bill Richtmyre
K
Kim (Brown) Lieberman
May 15, 2021
Dr. Strobl delivered my first child, I was always impressed with him, may he rest in peace.
C
Caren Borjeson
May 14, 2021
With loving memories of "John Strobl, D.O.",