Sign In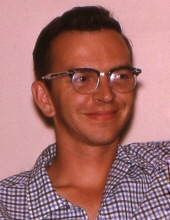 Gary J. Nelson
Gary J. Nelson passed away peacefully on April 6, 2021, in Vancouver, Washington surrounded by family at 82 years old. His family is rejoicing for him to have finally made it to his Heavenly home and is reunited with his wife Beverly after almost thirteen years apart. Gary was born May 24, 1938, in Williston, North Dakota to Ernest Nelson and Thelma (Gordon) Nelson. His parents and two siblings moved from North Dakota to Spokane, Washington in 1943 for Ernest's work for the post office and then later as a postman on the Railroad system. He grew up in Spokane, Washington, and then went to Chicago, Illinois to complete his technical degree after high school at DeVry University. He returned to Spokane and began working for the Bell Telephone company, later to be called AT&T. He married Beverly Ruth Kroening on June 3, 1961, in Spokane, WA after meeting her at a church choir rehearsal and discovering their shared love of music and strong Christian faith. They moved to Yakima, Washington after their first two children were born in 1968 and went on to have two more children in Yakima. They were very active at Grace Lutheran Church in Yakima and still loved to sing in the choir together. Gary also had a passion for pipe organ music, the louder the better, and helped support a restoration that took many years of a pipe organ re-christened The Beverly Ruth Nelson Memorial Organ, at the Hollywood Theater in Portland, Oregon. Gary and Bev moved to Vancouver, WA in 1987. They joined Peace Lutheran Church and were very active in the choir and Gary helped with woodworking and audio-visual projects around the church. Gary worked well with his hands and always had a project going around the house during his free time from building enormous custom speakers to remodeling the kitchen and adding an addition to the house. Gary was a fervent scale modeler, and his large-scale model of the Tidewater Defiance towboat is still housed in the Maritime Museum in Astoria, Washington. He was also a super fan of the 1970s music group ABBA and at one time was president of their United States fan club. He shared his love of music with everyone he encountered and if you came over to his house rest assured you would hear whatever new music he had just bought. Gary was preceded in death by his wife Beverly in 2008, and his brother Lawrence Nelson. He is survived by his four children. Daughter Suzanne (Nelson) Schwartz her husband Daniel Schwartz of Katy, Texas, his son Mark Nelson of Yakima, WA, his son David Nelson of Spokane, WA, and his son Steven and wife Tracy (Smith) Nelson of Vancouver, WA. His surviving grandchildren are Diana (Schwartz) Laubscher and husband Brandon Laubscher of Valley, Nebraska, Andrew Schwartz and wife Julie (Bridges) Schwartz of Katy, Texas, and Ryan and Conner Nelson of Vancouver, WA. He also had four great-grandchildren they are Jonah and Robin Schwartz of Katy, Texas, and Kane and Colette Laubscher of Valley, Nebraska. He felt so blessed to be able to take a trip east and meet them this December before his health declined. The funeral for Gary will be Saturday, April 17th at 11:00 am at Peace Lutheran Church 13112 NE 28th St Vancouver, WA 98682. Pastor Gary Kraklow will be officiating. Gary will be laid to rest at Evergreen Memorial Gardens 1101 NE 112th Ave, Vancouver, WA 98684 next to his beloved Beverly. The family would also like to thank Lavender Manor Adult Family Home in Vancouver, WA for taking such wonderful care of Gary in his last days. They helped us through a difficult time while smoothing the way for Gary to move on to his Heavenly home. In lieu of flowers, donations can be made to Peace Lutheran Church 13112 NE 28th St Vancouver, WA 98682 in Gary's name for funds to be used towards their audio-video system.
May 24, 1938
-
April 6, 2021
05/24/1938
04/06/2021
Recommend Gary's obituary to your friends.
A
Aunt Carol, Cathy, Janet, Barbie and families
April 13
May the Lord comfort all of you with His steadfast love as you think of your dad and grandpa in the loving arms of Jesus.
Dad and his great grandsons Jonah and Robin
Dad with his brother Larry and Sister Andrea in 2008
So glad I got to meet my cousin, Gary, and spend time together.
Thanks Dad for all you did for us kids. We love and miss you. ~Steven