Sign In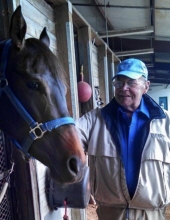 Walter Thompson
Walter Thompson May 24, 1934 – January 21, 2021 Walter grew up a farm boy on a 500-acre dairy farm in Porter, WA. He graduated in 1952 from Elma High School and was football star at his high school. Walter received a full-ride scholarship to the University of Washington, but when he went to visit the college it was too big for this small-town boy of 500 people from Porter so he chose the University of Puget Sound. He played 4 years of football as a pulling guard in college and got a degree in Geology. He ended up getting a job at Aerojet that took him all over California. Eventually, he got an engineer job at Boeing. Walter was the project manager of Air Launch Cruise Missile Loading Support, and he worked with the Stealth Bomber team. Walter retired from Boeing after 35 years. After retirement, Walter and his wife, Alta, along with partner, Mike Nordean, embarked on buying Wally's Drive-In in Buckley, WA. And a few years later came along Wally's Chowder House in Des Moines, WA. Wally's main love was horse racing at Longacres and Emerald Downs. He was involved in this hobby for 40 years. He had a small farm in Buckley where he spent many hours caring for the horses, breeding, and all that goes along with a working horse farm. He is survived by his daughters, Cindy White (Bob), and Marcy Ortlinghaus; son, Walter Thompson III (Diane); grandchildren, Dana Vannett (Kelly), Allison White, Amber McCarthy (Andy), Kyle Ortlinghaus, Courtney Benitez (Tino), Jonathan Thompson; and great-grandchildren, Riley, Teagan, Emery, and Giovonni. Wally was hardworking, generous, always smiling, friendly to everyone, and was always willing to give a helping hand.
May 24, 1934
-
January 21, 2021
05/24/1934
01/21/2021
Recommend Walter's obituary to your friends.
Plant a tree in memory of Walter
An environmentally friendly option
Wally, was a friend, mentor & father figure in my life. Wally was always kind and ready for a conversation. He became a full fledged "horse guy" by the time he retired . Looking back on his horse journey he was all in, big time. Wally would scare the whits out of me when...
Continue Reading