Sign In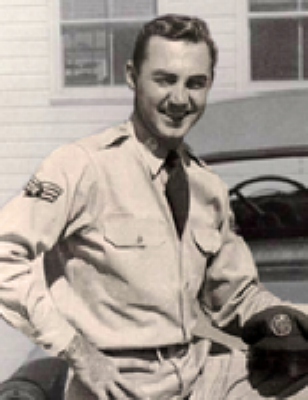 Martin Anthony Bacik
<p>American Fork, UT - Martin Anthony Bacik, 87, joined his eternal companion January 19, 2021.&nbsp; He was born February 7, 1933, in Detroit, Michigan, to Martin Joseph Bacik and Marie Ann Klusacek .</p> <p>Martin grew up as an only child, but it was a very happy childhood.&nbsp; The three of them spent a lot of great times together.</p> <p>Martin served in the United States Airforce from 1953 &ndash; 1957 as a Staff Sergeant.&nbsp; He was stationed at Nellis Air Force Base in Las Vegas and met his soulmate who was living there during the summer with roommates from BYU.&nbsp; Viola was instrumental in introducing him to The Church of Jesus Christ of Latter-Day Saints.&nbsp; He was baptized a member of the Church of Jesus Christ of Latter-day Saints March 11, 1956.</p> <p>He married his sweetheart, Viola Ann Johanson on May 26, 1956. Their marriage was later solemnized on June 26, 1957 in the Salt Lake City Temple.</p> <p>He went to the University of Utah and received his Bachelor&rsquo;s Degree in Education in 1961, then taught sixth grade for 13 years in the Jordan School District then went on to get his Master&rsquo;s Degree in Educational Administration at the University of Utah as well.&nbsp; He then continued working for the Jordan School District as an Elementary School Principal for another 13 years.&nbsp; After retiring early from the Jordan School District he worked for 22 years for the Mountain States Schoolbook Depository.</p> <p>Dad loved the University of Utah and Mom loved Brigham Young University.&nbsp; There was a lot of playful banter during rival games.</p> <p>He served in many positions for The Church of Jesus Christ of Latter-Day Saints including ward clerk, financial clerk, counselor in several bishoprics, assistant in the High Priest Group leadership.&nbsp; He also served on the Church Writing Committee for courses 8 and 9 for the Junior Sunday School and Primary. This committee came up with the name &ldquo;VALIANTS&rdquo; and putting on the &ldquo;Whole Armor of God&rdquo;.</p> <p>He and his beloved sweetheart, Viola worked for 9.5 years in the Mt. Timpanogos Temple, and one year in the Nauvoo Illinois Mission serving at the temple open house as missionaries. They also served as missionaries at the St. George Family History Center and worked in the St. George Temple.</p> <p>He took pride in his incredible organization skills.&nbsp; His garage and home were very organized.&nbsp; He loved providing for his wife.&nbsp; He always was working on improving their homes by remodeling and repairing.</p> <p>During the last five years of Viola&rsquo;s life, he dedicated his to taking care of her.&nbsp; He helped with her care and never left her side, except to maybe get her favorite lunch at Arby&rsquo;s.</p> <p>After Viola&rsquo;s death, he was diagnosed with Parkinson&rsquo;s and Dementia which finally took his life.</p> <p>Martin and Viola&rsquo;s children (Marty, Linnea, Leslie and Laurel) claim, &ldquo;We had the best parents that we could have ever had!&rdquo;&nbsp;</p> <p>Survivors include Martin Gregory (Diane) Bacik, Linnea Marie (Scott) Wall, Leslie Ann (Bryce) Walker, Laurel Kaye (Rick) Henderson, 23 grandchildren, and 26 great-grandchildren, expecting 27th and preceded in death by his beloved wife and a great-grandson.</p> <p>We, the Bacik Family wish to express a heartfelt &ldquo;THANK YOU&rdquo; to Nurse Allyson, and the staff and residents at Highland Glen who were so good to our father and grandfather. &nbsp; We would also like to thank LaCosta for treating our father like a &ldquo;KING&rdquo;.&nbsp; He has a reserved table there.</p> <p>As a special request, the Bacik family suggests that instead of giving flowers, a donation be made to our sweet hospice nurse Allyson who recently lost her husband to Covid-19.</p> <p>Allyson spent many, many loving hours caring for our mother AND our father.&nbsp; She lost her husband during the final days of our father&rsquo;s life.&nbsp; Please donate the money you would have spent on flowers to her.&nbsp; Leslie has a Venmo account @leswalker99.&nbsp; Just indicate &ldquo;For Allyson&rdquo;.</p> <p>Due to current restrictions, services were held on January 21, 2021 for immediate family.</p>
February 7, 1933
-
January 19, 2021
02/07/1933
01/19/2021
Recommend Martin's obituary to your friends.
Obituary
American Fork, UT - Martin Anthony Bacik, 87, joined his eternal companion January 19, 2021. He was born February 7, 1933, in Detroit, Michigan, to Martin Joseph Bacik and Marie Ann Klusacek .
Martin grew up as an only child, but it was a very happy childhood. The three of them spent a lot of great times together.
Martin served in the United States Airforce from 1953 – 1957 as a Staff Sergeant. He was stationed at Nellis Air Force Base in Las Vegas...
Events
There are no events scheduled. You can still show your support by sending flowers directly to the family, or plant a tree in memory of Martin Anthony Bacik.
Visit the Tribute Store