Sign In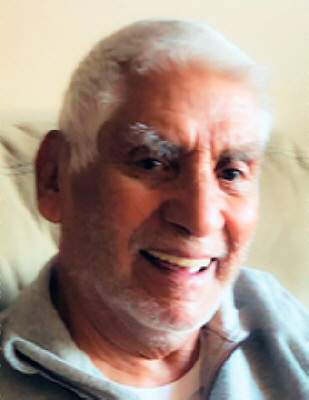 Julio Del Carmen Duarte
JULIO DEL CARMEN DUARTE 07/16/1935 – 01/07/2021 On January 7th, 2021 at 11:25pm, Julio Del Carmen Duarte, loving husband and father to four, passed away at the age of 85. Julio was born on July 16th, 1935 in Rio Boyacá, Colombia to Luis Alejandro and Maria Dolores Duarte. His name was given in honour of Our Lady of Mount Carmen, a traditional holiday celebrated on the date of his birth. He was lovingly known by various nicknames including: Julito, Yulai, Don Julio, abuelito and abelo. At the age of five, Julio and his family moved to the capital city of Bogota, Colombia, where he received his first academic accomplishment of graduating secondary high school, despite having to work due to his financial circumstances. Julio continued his educational journey at the Universidad Javeriana de Colombia, where he completed his degree in Topography and Construction and attained his professional title in 1963 at the age of 28. Julio's professional career continued to blissfully evolve with opportunity as he worked for government faculties and globally recognized organizations. During a reunion with his old friend Bernardo, Julio was invited to the gentleman's family home where destiny greeted him to a beautiful young lady. Her name was Nancy, whom he irrevocably fell in love with and married 18 months later on August 2nd, 1968 in the city of Facatativa, Colombia. They enjoyed a loving honeymoon beachside in the city of Cartagena, Colombia. Julio and Nancy made the decision to move to Cali, Colombia, where they happily established their family and welcomed their two eldest daughters, Adriana Duarte and Monica Duarte. The family of four then decided to travel back to Bogota, Colombia for Julio's work, where they continued to expand their family and greet two more children, Julio Andres (Jr) Duarte and Diana Karolina Duarte. In 2007, Julio and Nancy, alongside their youngest daughter Diana Karolina, had the opportunity to immigrate to Canada, a country for which he had the utmost admiration and respect. They reunited with their three other children in Canada, where Julio's legacy continued to grow. Throughout the years, Julio delighted in his relationship with his eleven grandchildren: Daniel and Lidia Cantor, Kevin, Karen and Loida Perez, Julio Michel, Daniel, Audrey and David Duarte, and Maria and William Realegeno. He was also honoured with the opportunity to meet his first great granddaughter Leilah Camacho. Julio's time in unity with his family was his ultimate happiness. Julio was given the opportunity to become a Canadian Citizen, a blessing he forever held dear to his heart. The years Julio lived in Canada were a journey full of happiness. He had the opportunity to travel the globe, visiting countries like Puerto Rico, Dominican Republic, Mexico, the United States, and a vast number of stops in Europe. He elated in his travels and remembered each trip with fondness. Julio Duarte was, above all, a faithful and humble follower of God. Leaning his faith and trust in the Lord's will, Julio fulfilled his dreams and created his legacy here on earth. Julio continued to follow God as he congregated with his fellow spiritual brothers and sisters, all of whom were deeply fond of his kind character. On the evening of January 7th, 2021, after a beautiful sunset descended behind the Canadian Rockies, God welcomed Julio into his heavenly kingdom with open arms. His mission on earth was completed, and the Lord transformed his soul into an eternal light that will forever reign over our hearts. Julio is forever cherished for living a hardworking and passionate life. He strongly believed in the law of attraction and with his faith entrusted in God, he never ceased to persevere and strive towards his dreams. Julio's accomplishments led him to live an honourable life, one that he valued each day without regret. Julio, we are thankful for your memory. You will live in our hearts forever and we will always treasure your smile. Goodbye for a short little while. Julio's last spoken words were: "Everything shall be done with order."
July 16, 1935
-
January 7, 2021
07/16/1935
01/07/2021
Recommend Julio's obituary to your friends.
Obituary
JULIO DEL CARMEN DUARTE07/16/1935 – 01/07/2021On January 7th, 2021 at 11:25pm, Julio Del Carmen Duarte, loving husband and father to four, passed away at the age of 85.Julio was born on July 16th, 1935 in Rio Boyacá, Colombia to Luis Alejandro and Maria Dolores Duarte. His name was given in honour of Our Lady of Mount Carmen, a traditional holiday celebrated on the date of his birth. He was lovingly known by various nicknames including: Julito, Yulai, Don Julio, abuelito and abelo.At the ag...
Events
There are no events scheduled. You can still show your support by sending flowers directly to the family, or plant a tree in memory of Julio Del Carmen Duarte.
Visit the Tribute Store