Sign In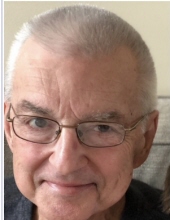 PETER L. KINZLY
PETER KINZLY, devoted husband of Mary Anne (née Bilek) (deceased), loving father to Jill Kinzly Bee (Adam) and Mark Kinzly (Mary). Adoring grandfather, "Super G", to Sean and Mallory and soon to be Katherine. Son of Louis and Margaret Kinzly (both deceased). A celebration of life will be held at a later date. Interment private. To leave a condolence or message for Peter's children, please go to www.mcgorray-hanna.com. Any donations can be made to Harding Middle School and mailed to Lakewood City School District, 1470 Warren Road, Lakewood, Ohio 44107. Donations will benefit the Mary Anne Kinzly Memorial Fund at Harding Middle School where Peter's wife Mary Anne was an Intervention Specialist.
March 11, 1947
-
January 13, 2021
03/11/1947
01/13/2021
Recommend PETER's obituary to your friends.
Plant a tree in memory of PETER
An environmentally friendly option
Mark and Jill, so sorry to hear of Peter's passing. Your family was the greatest of neighbors for such a long time. I have fond memories of Peter. He was truly a great person. We spent many days on his back porch talking about anything and everything especially the Cleve...
Continue Reading
S
Sharon Flannick
2 days ago
My deepest sympathy to the family. I worked with your dad at Key. He was truly a class act!!! Always friendly and kind!!!! It was fun keeping in touch with him on FB. Please know that many thoughts and prayers are with you. Sharon Flannick
I had the pleasure of working with Peter for many years, and also considered him a good friend, whenever he visited Key in Colorado or I visited Cleveland. He was a gentleman, fun to be with, always helpful, and he deeply loved his family, especially the grandkids. Th...
Continue Reading
Jill & Mark...Peter was such a great guy and a good friend. He'll be missed by all of those with whom he worked. We were all lucky to have known him. Rick Buckman-Drage from the UK asked that I post his condolences as well. Ron Garland
Jill and Mark - your dad was awesome! He was always so kind to everyone at Key. I loved hearing about the new restaurants he and your mom went to and he loved sharing those experiences with you too. I know he loved being a grandfather and loved his name SUPER G! I'm n...
Continue Reading
M
MaryAnn Lawrence
3 days ago
Dear Jill and Mark, I have known your father for nearly 40 years. He was my best friend and supporter at Key. I am wracked with sorrow ar his passing. He loved your Mom with all his heart and soul. I will always remember our work trips and after-work conversations. ...
Continue Reading