Sign In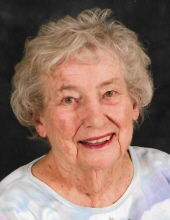 Marie Elaine Kummer
Marie Elaine Kummer, age 91 of Clay Township, Michigan passed away on January 13, 2021 at her home. She was born on August 17, 1929 in Detroit, Michigan to Norman and Viola (Myntti) Pocock. She knew she met her future husband when a blonde hair blue eyed man walked into the drugstore. They were married on November 3, 1950. Marie and her husband were able to travel and take many cruises during their 63 years of marriage. They were snowbirds and enjoyed shuffleboard, themed dinner parties, and they were graceful on the dance floor. Her hobbies were Bingo, reading and playing Words with Friends with her family. Her guilty pleasures were a hot cup of coffee and black licorice. Beloved wife of the late Arthur H. Kummer. Loving mother of Joyce (David) Brunner, Sharon (Carl) Code, Glen (Robin), Mark, Lori Batty, Keith (Jeanette), Jill (Michael) Foley, the late Kristine Robertson and the late Debra Stegman. Dear grandmother of 19 grandchildren and 11 great-grandchildren. Dear sister of the late Thomas Pocock. Dear sister-in-law of Mary Pocock and dear mother-in-law of Thaddeus Stegman. Marie is also survived by nine nieces and nephews. Visitation 3:00 - 6:00 p.m. on Sunday, January 17, 2021 at Gendernalik Funeral Home. Funeral service at 4:00 p.m. on Sunday, January 17, 2021 in the funeral home. In lieu of flowers, memorials may be made to the Kidney Foundation.
August 17, 1929
-
January 13, 2021
08/17/1929
01/13/2021
Recommend Marie's obituary to your friends.
Jill, I'm so sorry to hear about your mom. What an amazing mom you had and an incredible example your parents set for you. Although I didn't meet your mom in person, I felt like I knew her with some of the stories we've shared. Prayers of peace that surpasses understa...
Continue Reading
A candle was posted for Marie Elaine Kummer.
Christopher Pratt
3 days ago
Jill, I did not have the pleasure of knowing your mother, but what a daughter she raised! My thoughts and prayers, and all of us in Grosse Pointe EA are with you and your entire family during this challenging time.
A candle was posted for Marie Elaine Kummer.
Mom, I love you very much and was fortunate to have you in my live for 50 years. As I was the youngest of your nine kids, I was definitely spoiled by you. It started when I was a kid and you would let me skip eating my vegetables and still have dessert, when you...
Continue Reading