Sign In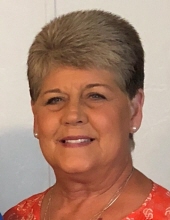 Shelia Dianne Broom
A loving mother and grandmother, Shelia Dianne Broom passed away on the morning of Wednesday, January 13, 2021, at Houston Medical Center. She was 61 years old. A Middle Georgia native, Shelia was born in Macon, Georgia, on November 8, 1959. She was the daughter of the late Bobby Couey and Carolyn Murphy. Shelia enjoyed pouring into the lives of the young students she taught at Linwood Elementary School while preparing them for a brighter future. After Shelia left work each day, she would spend time making her house a home for her family. Her grandchildren were her whole world and she made sure to let them know. Shelia also loved going to the beach and looked forward to the annual family beach trip at Amelia Island each year. She was of the Methodist faith and attended Centerville United Methodist Church. Her memory will forever be treasured by her husband of 23 years, Greg Broom; children, Robby Britt (Kimberly); Shelly Tatum (Rod); Crissy Britt (Zach Collins); Sara Harper (Brandon); Rebecca Arnold (Zack); grandchildren, MaKayla Britt; Kayton Stubbs; Collin Stubbs; Derick Tatum; Kaylee Britt; Kelsey Britt; Aden Harper; Jayden Tatum; Brantley Harper; Eden Collins; Ella Arnold; step-father, Kay Murphy; sister, Lewanna Patterson (Miles Murray); uncles, George Clements (Lenore); and Ted Clements (Judy); as well as a host of nieces, nephews, and extended family members and friends. Shelia will be laid to rest at Magnolia Park Mausoleum after a private graveside service on Sunday, January 17, 2021. Shelia also loved her rescue dog, "Curtis." In lieu of flowers, the family respectfully suggests memorial donations be given in memory of Shelia Dianne Broom to any animal rescue shelter of your choice. Learn more about the measures McCullough Funeral Home is taking to ensure the health and safety of our guests at mcculloughfh.com. There you can also sign an Online Registry for the family. McCullough Funeral Home and Crematory has the privilege of being entrusted with these arrangements. Video Tribute <iframe class="ts_player" allowfullscreen="true" allowtransparency="true" allow="autoplay; fullscreen" frameborder="0" height="330" scrolling="no" src="https://www.tributeslides.com/videos/embedded_video/2KX9JPBFMG8T7BLP" width="512"></iframe>
November 8, 1959
-
January 13, 2021
11/08/1959
01/13/2021
Recommend Shelia's obituary to your friends.
F
Funeral Home Owner
a day ago
My thoughts and prayers are with the family! Shelia was a sweet and very caring person. She will be missed by many.
Gregg and family I'm so sorry to hear about Shelia. I thought the world of her, I can remember when my Granddaughter went to her class at church needles to say Shelia would spoil my babies. She loved her family and her babies she would tell me alot. Lewanna it will get...
Continue Reading
A candle was posted for Shelia Dianne Broom.
Jodi Lynne Thompson
2 days ago
A candle was posted for Shelia Dianne Broom.
L
Love, Ed and Janice Daniel (Parents of Kimberly Britt)
2 days ago
With loving thoughts and prayers. May God wrap you all with comfort and peace during your time of loss.
She was always so sweet and welcoming to me when I would visit Sara at her house. I am so sorry for your loss. I, as well as anyone who knew her, know she loved her family dearly and was so very proud of all the kids and grandkids. Sending love and prayers to all of you....
We are So sorry for your loss! We Love Shelia and will miss her so much! We are also donating to a beach doggy rescue! We love yall!
My heartfelt condolences to you and your family.🌹
A candle was posted for Shelia Dianne Broom.
Sheila was a wonderful mother and friend. She loved my children as her own, and they loved her as their mother. Which I will always be thankful. One thing Sheila left us, is the meaning of love and family....and friendship...I am so thankful to be part of the love she...
Continue Reading
L
Lesley J. Wilson
2 days ago
The years we shared watching our girls cheer together are some of our fondest memories. It brings great sadness to learn that Sheila's brilliant smile and loving spirit are no longer with us. I know she is cheering us all on from heaven and we will see her again. Praying...
Continue Reading