Sign In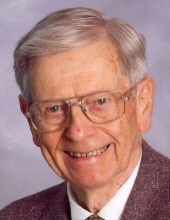 Donald O. Martin
Donald O. Martin would like you all to know that at the age of 94, his work here on Earth is complete. He is now in the arms of his beloved Savior and loving wife of 59 years-Ethel May (Lacey) Martin. Don was a long time resident of East Longmeadow, MA and resided at Granite Farms Estates in Media, PA for the past 8 1/2 years. Despite living through the Great Depression and becoming an orphan, Don accomplished much during his long life. After high school and an apprenticeship with the Springfield Armory, he proudly served in the U.S. Navy during World War II. After the war, he graduated from Stockbridge School of Agriculture at University of Massachusetts. He was employed by a few places including Hamilton Standard. Ultimately, he ended up at the Amherst College Physics Department in Amherst, MA. Retiring from the college at age 71, he was asked to return to work and then retired again. Don dedicated his service as a youth leader and Deacon of First Baptist Church of East Longmeadow, Somers Baptist Church and was an active member of Springfield Baptist Church in Springfield, PA. Surviving are his 6 cherished children: Rebecca Bontrager of Phoenix, AZ; Judith Bromley of Clyde, NC; Karen Johnson of Jim Thorpe, PA; Holly Kerins of Wynnewood, PA; Steven W. Martin of Windham, NH and Merideth Buza of Camillus, NY. Don loved all of his 25 grandchildren and 40 great grandchildren very much and would like them to remember what he always told them. In lieu of flowers, contributions may be made to the Springfield Baptist Memorial Fund in Springfield, PA. Memorial Services will be held in the late spring after travel bans are lifted.
April 25, 1926
-
January 8, 2021
04/25/1926
01/08/2021
Recommend Donald's obituary to your friends.
Plant a tree in memory of Donald
An environmentally friendly option
2 trees planted in memory of Donald O. Martin.
L
Lorraine Zeiler Riggins
March 11
My favorite memories of Don involve his amazing ability to entertain. As a child and as a teen I so enjoyed listening to him recite poetry and even Shakespere. He could make characters come alive. Of course, since Don and Ethel were our youth directors, they had a tremen...
Continue Reading
B
Bonnie Martin Padlo
January 15
My Uncle Don will leave a positive mark on my life. I loved traveling to East Long Meadow as a child to visit Uncle Don and Aunt Ethel and all my cousins. I'm so thankful for all the visits and look forward to joining my cousins in the Spring at Uncle Don's graduation ...
Continue Reading
J
Jeanette LaGrasse
January 14
We are keeping you in our thoughts and prayers. Our warmest condolences,
Y
Your Friends at BlueSnap
January 14
Your mom and dad were very special people! My prayers are with you during your celebation of dad graduation to heaven.
C
Cynthia Fitzmaurice
January 12